Parking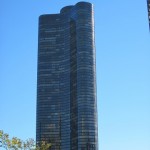 This 1-bedroom on the 67th floor of Lake Point Tower at 505 N. Lake Shore Drive might not seem particularly interesting at first glance until you take a look at the pictures of the 12-car garage that comes with it.
Yes- you read that right.
A 12 car garage.
The … Continue reading »
The developer is trying to close out sales at the conversion at Pearson on the Park at 222 E. Pearson in Streeterville/Gold Coast.
The building was built in 1963 and was converted in 2007.
The lobby and hallways were renovated. The developer put washer/dryers in the units.
Now, the developer … Continue reading »
American Invsco has been trying to sell the remaining deeded parking spots in its 33 W. Ontario building for months now.  From Craigslist:
We have 8 deeded parking spots available at Millennium Centre at 33 W. Ontario. Prices range from 25k-29k each. Assessments are $53-$61 each month depending on