This vintage 3-flat greystone at 852 W. Oakdale in Lakeview recently came on the market.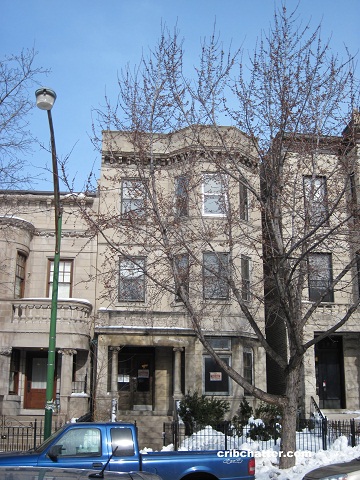 It is bank owned and is listed for 45%, or $480,000, under the 2007 purchase price.
Built in 1891, the greystone is on a 25×125 lot and has a 2-car garage.
From the public records, it appears the property was given some kind of historic landmark designation in 2006.
The units are as follows:
Unit #1: 3 bedrooms, 1 bath
Unit #2: 3 bedrooms, 1 bath
Unit #3: 3 bedrooms, 1 bath
There is an unfinished basement with storage and laundry facilities.
All three units are currently vacant.
The listing does not have interior pictures but says "minor TLC needed throughout."
There is separate heating and no central air.
Is this a deal?
Drew Kemper at Novation Realty has the listing. See the listing here. (no interior pictures)
852 W. Oakdale: 3-flat, 9 bedrooms, 3 baths, 3049 square feet, 2 car garage
Sold sometime before 1990
Sold in September 2005 for $900,000
Sold in March 2007 for $1.06 million
Lis pendens foreclosure filed in September 2009
Bank owned in January 2011
Currently listed at $580,000
Taxes of $15,028
No central air
Separate heating