The New(er) Construction Arts & Crafts 4-Bedroom in North Park: 5719 N. Jersey
This 4-bedroom Arts & Crafts single family home at 5719 N. Jersey in North Park was built in 2007 along with three or four others that look just like it on adjoining lots.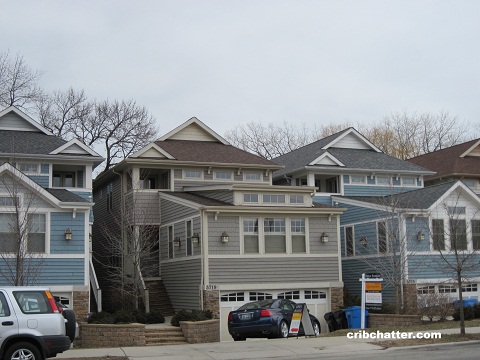 It was on the market in 2008 and 2009 and then withdrawn.
The house recently returned and is now listed for $106,000 under the 2007 purchase price.
Built on an oversized 30×140 lot, the house has a front facing 2-car garage.
It backs up to a park and the Chicago River.
The 4000 square foot house has vaulted ceilings.
3 out of the 4 bedrooms are on the second floor with the fourth in the lower level.
There is a stone patio with a built-in gas grill.
The kitchen has granite counter tops and stainless steel appliances.
The listing says it is 2 blocks from Northside Prep.
Is this a deal?
Scott Stavish at @Properties has the listing. See the pictures here.
5719 N. Jersey: 4 bedrooms, 3.5 baths, 4000 square feet, 2 car garage
Sold in May 2007 for $745,000
Originally listed in March 2008 for $850,000
Withdrawn in June 2009
Re-listed in February 2011 for $639,000
Currently still listed at $639,000
Taxes of $11,195
Central Air
Bedroom #1: 22×14 (second floor)
Bedroom #2: 13×10 (second floor)
Bedroom #3: 11×10 (second floor)
Bedroom #4: 12×11 (lower level)