This 2-bedroom top floor unit in a former church at 3516 N. Sheffield just a half a block away from Wrigley Field in Lakeview has been on the market since March 2011.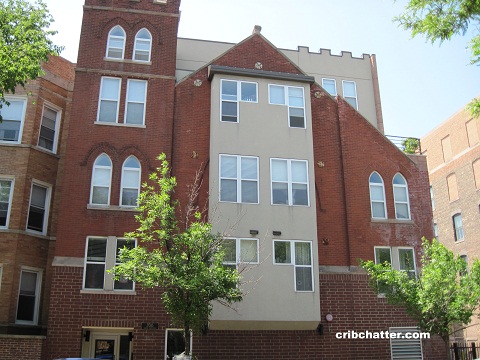 It is bank owned.
In that time, it has been reduced $31,000.
It is not only listed $108,500 under its 2004 purchase price but also $17,500 under the 1998 purchase price, when the building was originally converted from a church into condos.
The 1998 purchase, however, also included parking- and from what I can tell from the listing and the public record- the current unit does not. Parking is going for $25,000 in the building.
It is a top floor unit with east and west views as well as skylights.
From the pictures, the kitchen is intact and has stainless steel appliances and granite counter tops.
The listing says the bathroom is marble.
The unit has hardwood floors, central air and in-unit washer/dryer.
The listing says it needs some minor maintenance like painting but is otherwise in move-in condition.
Is this a steal?
[You'll notice the bank didn't hold onto this one very long before re-listing it.]
Eric Janssen at Chicago Real Estate Resources has the listing. See the pictures here.
Unit #4RS: 2 bedrooms, 1 bath, 1150 square feet
Sold in January 1998 for $216,500 (included parking)
Sold in April 1999 for $227,500 (included parking)
Sold in May 2000 for $264,000 (included parking)
Sold in September 2004 for $307,500 (did NOT include parking)
Lis pendens filed November 2008
Lis pendens filed March 2010
Bank owned in January 2011
Originally listed in March 2011 for $230,000
Reduced
Currently listed at $199,000
Assessments of $262 a month
Taxes of $5387
Central Air
Washer/Dryer in the unit
No parking
Bedroom #1: 13×11
Bedroom #2: 12×11