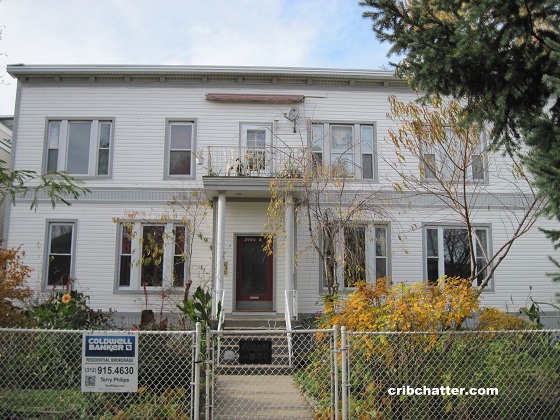 My picture of this 4-flat at 3908 N. Kedvale doesn't do the gardens out front any justice as I'm sure you have to see them in full bloom to really appreciate them (see the listing photos for better pics.)
This is a unique multi-family property on a large 62.6×173.6 property.  Given the lot size, there is a lot of outdoor space, including multiple decks off the back as well as a gazebo.
Each unit is individually metered and there is a 4 car garage. There is also an unfinished basement which has a washer/dryer.
Here are the specifics on each unit:
Unit #1: 3 bedrooms, 1.5 bath, central air (owner's unit)
Unit #2: 3 bedrooms, 2 baths, central air and washer/dryer (
Unit #3: 2 bedrooms, 1 bath, rents for $950
Unit #4: 2 bedrooms, 1 bath
The listing says the total rental income is $11,400.
All units have oak floors and eat-in kitchens. There are also some vintage features with 10.5 foot ceilings, pocket doors and fireplaces. The two 3-bedroom units also have skylights.
The property is a stone's throw from the Irving Park Metra stop. With the leaves off the tree- you can literally see the stop from the second floor of this property.
Originally listed for $750,000, it has been reduced $51,000.
The listing says you could live in the owners unit "practically rent free."
Is this a good investment at this price?
Terry Philips at Coldwell Banker has the listing. See the pictures here.
3908 N. Kedvale: 4-flat, 10 bedrooms, 5.5 baths, 4 car parking
Sold in April 1985 for $90,000
Sold in August 1989 for $220,000
Originally listed in August 2011 for $750,000
Reduced
Currently listed for $699,000
Taxes of $8262
Rental income of $11,400
Individually metered