They're back!
According to Crain's, condo developers are starting to build again- mainly 6 and 8 flats in the neighborhoods.
From Crain's:
"For the time being, this will work in quality locations with a very limited number of units," said Jason Vondrachek, managing broker and owner of Chicago-based Quest Realty Group.

Quest recently broke ground on a nine-unit building at 1312 W. Madison St., the second phase of a project started in March. A buyer has signed a contract for one of the condos in the building, which Mr. Vondracheck expects to complete in May.

Quest bought the land from Chicago-based Lakeside Bank last fall after the bank foreclosed on the original borrower. Quest then got a loan from Lakeside to build the first phase, which has six residential and two commercial units. The building sold out, and buyers will begin closing on their units in December, Mr. Vondrachek said.

He is starting the second phase of construction with his own money but will likely take a small loan from Lakeside once first-phase units begin closing in December, he said. The residential units will be priced from $425,000 to $490,000.

"What we're adding to the market is really small," Mr. Vondrachek said. "If you do anything too big, your buyers won't be able to get financing," he said.
This 6-unit building at 1310-1312 W. Webster is under construction in Lincoln Park and some of the units are already on the market.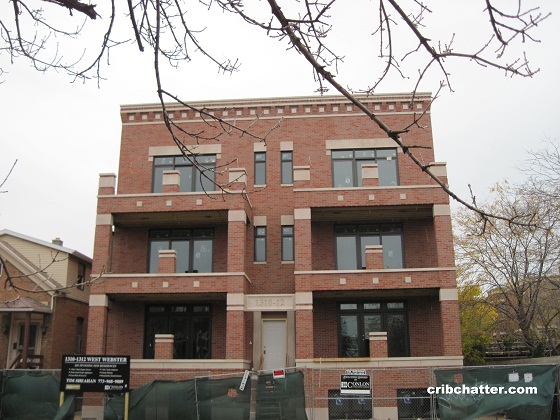 Crain's also talked to the developer of this building.
Developers also face stricter lender guidelines, with banks requiring that 70% of the units in a development be under contract before buyers can move in, said Padraic Heneghan of GLM Developers, who is building a six-unit project on the 1300 block of West Webster Avenue in Lincoln Park.

"That was always the case, but banks didn't seem to enforce it," he said. "If buyers are applying for loan, now they enforce it in case the developer goes bust."

Mr. Heneghan said mortgage availability for buyers is still a concern, so he'll often take a good contract — one where a buyer can put 30% down, for example — over the highest bidder on a particular unit.

"It's not all about the price, it's about the contract," he said.

Mr. Heneghan previously built single-family homes further west of his current project, in neighborhoods such as Albany Park and Avondale. He's now focusing only on condos, in Lincoln Park and Lakeview — neighborhoods that are still relatively strong, he said. Since 2008, he has built almost three dozen condo units in eight buildings, he said.

"I never sat on one longer than two or three months," he said. "I still think there's still a market here.
Here are the list prices for the three units at 1312 W. Webster:
#1W: 4 bedrooms, 2.5 baths: $875,000
#2W: 3 bedrooms, 2 baths: $599,000
#3W: 3 bedrooms, 2 baths: $699,000
The units have upscale finishes and millwork. You can see the pictures here (interior pics are from one of the developers other buildings.)
We have seen new construction single family homes selling well.
But with so many other townhouses and condos on the market at this similar price point, or cheaper, can new condo construction still triumph over "used"?
Condo builders tiptoe out of the woodwork [Crain's Chicago Business, Mary E. Morrison, November 22, 2011]