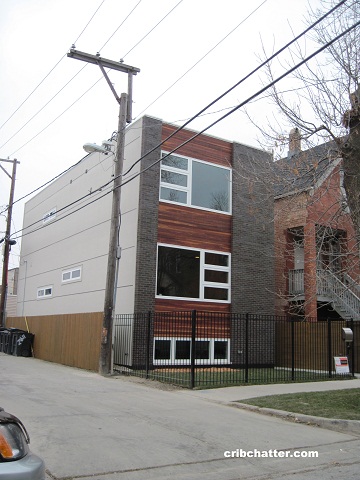 We first started chattering about this modern new construction single family home, being marketed by North Clybourn Group, at 1214 N. Rockwell in the East Humboldt Park neighborhood, in November 2010.
See our prior chatter here.
Back then, some of you were into it. After all it was a new construction house that was listed for anywhere from $350,000 to $450,000 (depending on location.)
That's the price of a condo in most areas and this was a HOUSE.
The developers have been buying up foreclosed properties in West Town, Logan Square, Avondale and Humboldt Park neighborhoods and building new.
One of these houses was even featured on an episode of House Hunters and despite the buyers wanting to be close to restaurants and shops, they couldn't resist purchasing it in a neighborhood that wasn't their first choice, because it was a HOUSE.
Since November 2010, there have been many more of these built.
But recently, I've seen even more of them around town.
Here's a few: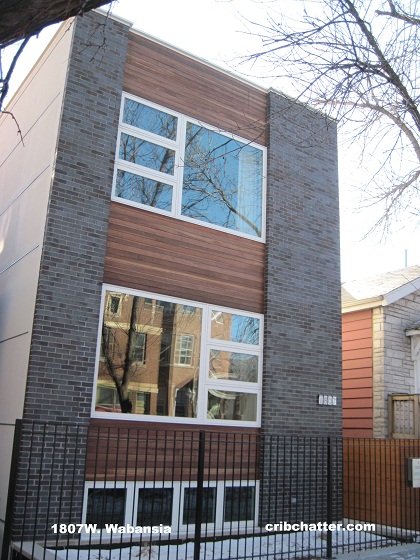 1807 W. Wabansia in the heart of Bucktown
 I couldn't even find an old listing for this one. Perhaps it wasn't ever listed.
But it looks like it sold in July 2011 for $550,000 (among the most expensive price points I've seen.)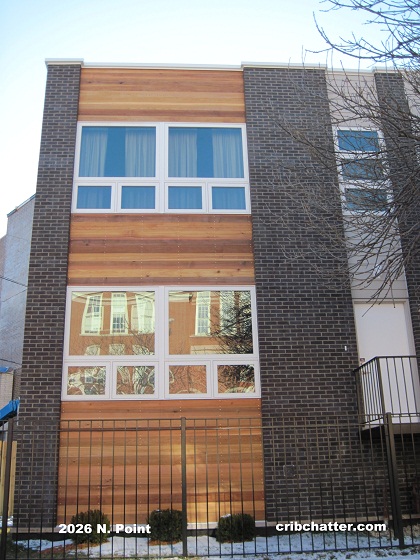 2026 N. Point in Logan Square: The listing says it sold "before print." 
Sold in November 2011 for $439,426
On an irregular 80x105x70 lot (see above)
I wish I would have taken a better picture- but due to the lot size, the front is long and rectangular (I only have half of the front in the picture above.)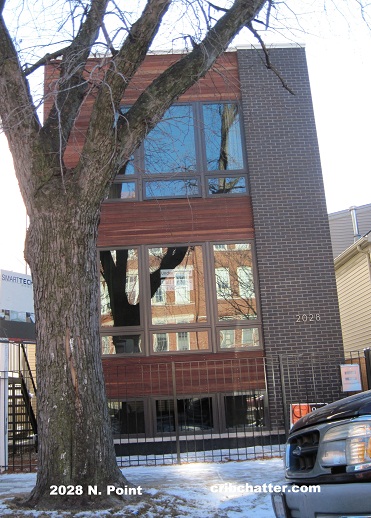 2028 N. Point in Logan Square: Curently pending but being used as a "model" for others in the neighborhood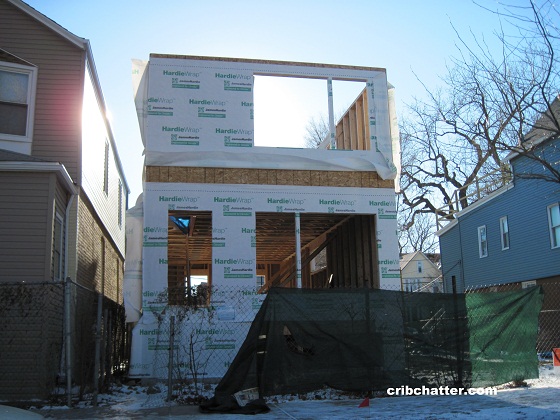 2120 N. Bingham in Logan Square: Just two blocks east of the North Point street houses.
Currently listed for $399,000
There look to be two lots here- so maybe two houses?
Obviously under construction
See the pictures here (although they use the same pictures for every house)
2967 W. Nelson in Avondale
Was listed in August 2011 for $349,000
Just pulled off the market
See the pictures here
2965 W. Nelson in Avondale
Was listed for $339,000
Now off the market
Is it good, or bad, for these neighborhoods to have what is, essentially, the same house being built over and over again on multiple nearby blocks (sometimes right next to each other)?
Is this akin to the building of the bungalows, all of which looked similar and served a purpose as starter homes, in the last century?
There is clearly demand for single family homes that are "new" in these neighborhoods. Why aren't other developers doing it?
Bonus points to whomever can list the most addresses with this same house. I'm sure there are a bunch more out there currently on the market.