$40K Drama Price Reduction on the 3-Bedroom SFH at 1911 W. Berenice in North Center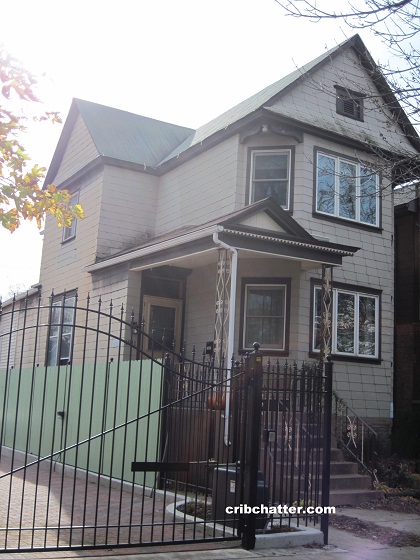 We've been chattering about this 3-bedroom single family home at 1911 W. Berenice in North Center since November 2011.
See our last chatter in May 2011 here.
It recently did a drama price reduction of $40,000 and has now been reduced $96,000 to $449,000.
In May, some of you thought this had to go under $400,000 just because of the new beer garden next door at the Big Bricks. One of the Redfin agents said the living room looks directly on the beer garden.
If you recall, the house was built in 1896 on a standard Chicago lot of 25×125.
It has 1704 square feet on two levels. There is apparently an unfinished basement.
All 3 bedrooms are on the second level. The house also has an "updated" kitchen with white cabinets and stainless steel appliances. The listing also says there is a new 2-car garage.
The gate in the picture above is for the property next door.
It's in the Bell school district.
When will price trump the location for this property?
Kevin Sullivan at Coldwell Banker still has the listing. See the pictures here.
Or you can see it in person at the Open House on Saturday June 16 from 11- 1 pm.
1911 W. Berenice: 3 bedrooms, 1.5 baths, 1704 square feet, 2 car garage
Sold before 1991 (no price listed)
Sold in December 2004 for $525,500
Was listed on November 1, 2011 for $545,000
Reduced
Was listed in February 2012 at $515,000
Reduced
Was listed in May 2012 at $489,000
Reduced
Currently listed at $449,000
Taxes of $8618
Space pak air conditioning
Bedroom #1: 16×14 (second floor)
Bedroom #2: 12×9 (second floor)
Bedroom #3: 17×8 (second floor)