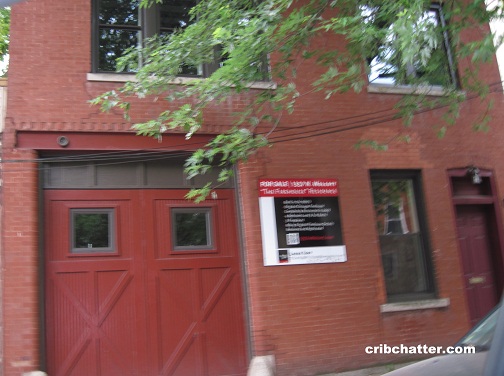 First off, the picture sucks (I know!). I didn't realize how bad it was until hours later but by then I was in another neighborhood so we're stuck with it for now.
But if you're looking for unique, this original Chicago firehouse at 1357 N. Wolcott in Wicker Park is it.
The 2-flat has exposed brick and timber with the original hardwood floors.
The building also has the original beamed ceiling.
The two units are as follows:
Unit #1: 1/1 rented for $1850 a month. Has C/A and in-unit washer/dryer
Unit #2: 3/2 rented for $2550 a month. Has C/A and in-unit washer/dryer
There is a two car garage and a rooftop deck.
The listing says it was built in 1800 (but since the city wasn't even founded yet- that seems doubtful). It is on a 26×69 lot.
The listing also says that "20% down & the rent positive cash flows. Note low taxes."
Does this building make sense as an investment?
Laura Topp at Koenig & Strey Real Living has the listing. See the pictures here.
1357 N. Wolcott: 2-flat, 4 bedrooms, 3 baths, 2 car garage, no square footage listed
Sold in June 1989 for $155,000
Sold in January 1994 for $242,000
Sold in May 1994 for $208,000
Sold in May 1999 for $300,000
Currently listed for $789,000
Taxes of $7748
Unit #1 rented for $1850 a month
Unit #2: rented for $2550 a month