5-Bedroom Home In The Villa On A Huge Lot Now $899,900: 3625 N. Springfield In Irving Park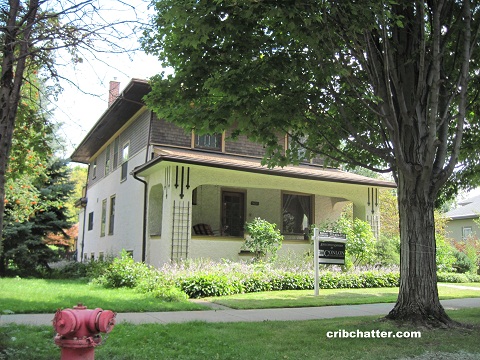 We've chattered about this 5-bedroom single family home at 3625 N. Springfield in The Villa neighborhood of Irving Park several times before.
See our December 2011 chatter here.
Originally listed at $1.2 million, we chattered about whether a house could really sell for over a million in The Villa which is filled with smaller bungalow homes.
This house is actually on an oversized lot measuring 105×120.
Back in December, some of you thought this wouldn't sell for much over $700,000. Homedelete thought it'd go back to the 1999 price.
If you recall, the Villa is a landmark historic district established in 1907 just north of Addison and east of Pulaski in Irving Park.
It is distinctive for its architecture, its wide lot sizes, and medians running down the middle of two of the streets- Harding and Avers.
The neighborhood has 126 homes and a very active community organization.
With this house, there is a large deck and above ground pool as well as a 2-car garage.
The eat-in kitchen has stainless steel appliances and maple cabinets.
Three of the five bedrooms are on the second floor with the fourth on the third floor and the fifth in the lower level.
There is central air and a fireplace.
Is this getting close to the correct list price now?
Read more about The Villa neighborhood here.
Kieran Conlon at Conlon still has the listing. See the pictures here.
Sold in June 1999 for $535,000
Was listed in September 2011 for $1.199 million
Reduced
Was listed in December 2011 for $1.050 million
Reduced
Currently listed at $899,900
Taxes of $9917
Central Air
Above ground pool
Bedroom #1: 17×15 (second floor)
Bedroom #2: 12×13 (second floor)
Bedroom #3: 14×11 (second floor)
Bedroom #4: 42×19 (third floor)
Bedroom #5: 13×12 (lower level)