Missed Out On Buying At The Portals Last Year? Now's Your Chance: 429 W. Grant in Lincoln Park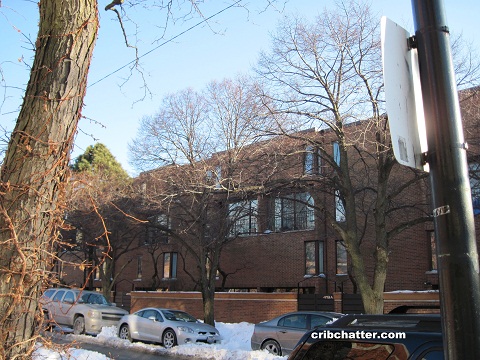 We've talked about this complex on West Grant in East Lincoln Park called "The Portals on Grant" several times over the years.
Built in the 1970s, the building is about 50 units of 3 bedroom/2.5 bath duplexes with parking, washer/dryer in each unit and central air.
This 3-bedroom "C" Unit at 429 W. Grant recently came on the market.
It might be familiar to those of you who watch real estate in the neighborhood (and especially at the Portals) because it last sold just 16 months ago, in March 2011.
This is a duplex up top floor unit with two balconies.
All three bedrooms are on the second floor.
There is a first floor powder room with a washer/dryer.
The kitchen has granite counter tops and stainless steel appliances.
Many of you have considered these units to be "deals" in the past because they were selling for under $400,000 and were in the Lincoln school district.
This unit sold for $388,000 just 16 months ago.
It has been listed for $41,000 above the 2011 purchase price at $429,000.
That is $29,000 higher than a sale in 2006, at the peak of the housing boom.
Will it be able to get the premium given the hotter market?
Lisa Resek-Peck at @Properties has the listing. See the pictures here.
Unit #C: 3 bedrooms, 2.5 baths, 1 car parking, no square footage listed
Sold in December 1988 for $166,000
Sold in October 1991 for $182,500
Sold in February 1996 for $189,000
Sold in December 2002 for $385,000
Sold in May 2006 for $400,000
Sold in March 2011 for $388,000
Currently listed for $429,000
Assessments of $336 a month (includes cable)
Taxes of $6094
Central Air
Washer/Dryer in the unit
1 car parking included (outdoor?)
Bedroom #1: 17×11 (second floor)
Bedroom #2: 13×11 (second floor)
Bedroom #3: 11×10 (second floor)