Selling A 1-Bedroom Just 6 Months Later In The Palmolive: 159 E. Walton in the Gold Coast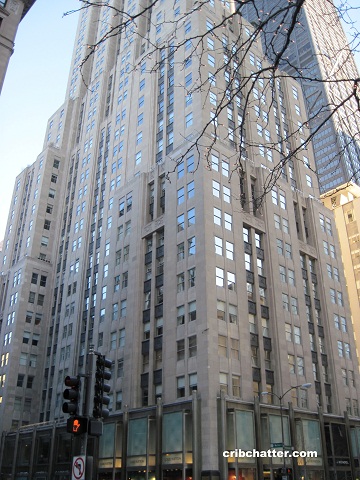 Vince Vaughn isn't the only one moving out of The Palmolive at 159 E. Walton in the Gold Coast as this large 1-bedroom recently came on the market just about 6 months after it last sold.
It is a rare 1-bedroom that faces north- so it's NOT facing south and looking into the Westin Hotel (like Clio always said his 2-bedroom did.)
It has dark stained oak floors and the other features of most Palmolive units, including luxury finishes and appliances.
Parking is $50,000 extra.
The Palmolive had an 8-year tax freeze for original owners. This unit first sold in 2011 from the developer, so hence why the taxes are just $2629. The tax freeze does NOT transfer. The new owner will pay substantially higher.
By the way- some of the original closings in the building happened in 2005. We'll be coming up to the end of the tax freeze for the original owners shortly. Time sure flies.
This unit was originally listed at $750,000 in the middle of June 2012 and a week later was reduced to $699,900.
How many of these upper bracket 1-bedrooms can the market handle?
A bunch of expensive one bedrooms are currently on the market in the new Ritz and Lincoln Park 2520.
Emily Sachs Wong at Koenig & Strey Real Living has the listing. See the pictures here.
Unit #6B: 1 bedroom, 1.5 baths, 1278 square feet
Sold in December 2011 for $720,000
Originally listed in June 2012 for $750,000
Reduced
Currently listed at $699,900 (parking is $50,000 extra)
Assessments of $1003 a month (includes gas, cable, doorman)
Taxes of $2629 (landmark tax freeze which does NOT transfer to the new owner)
Central Air
Washer/Dryer in the unit
Bedroom: 16×14