3 Years Later, the Bank Finally Owns This 7-Bedroom SFH at 1111 W. Wrightwood in Lincoln Park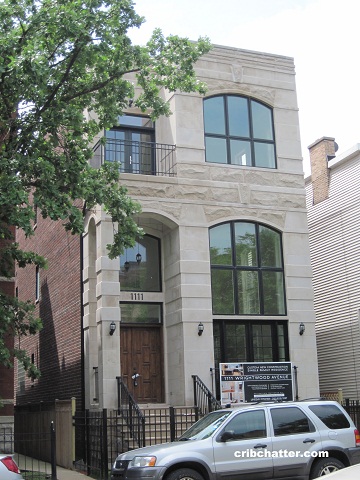 We've chattered about this new(er) construction 7-bedroom single family home at 1111 W. Wrightwood in Lincoln Park several times over the past few years including last July when it was listed as a short sale.
See our July 2011 chatter here.
After a lis pendens was filed all the way back in April 2009 (that is 3 years and 1 month, for all of you keeping track of such things) it is finally bank owned.
If you recall, it never sold from the original developer. It has been on and off the market since March 2008.
Built in 2010 on a 29×131 lot, the house has a rare 3-car garage and an elevator.
The listing says it has a "top of the line" kitchen with stainless steel appliances and stone counter tops.
The listing pictures show the kitchen so it appears to be intact despite no one living in this property for years.
There is a full floor master suite on the 3rd floor with 4 bedrooms on the second floor and the remaining 2 bedrooms on the lower level.
The bank listed it at essentially the same price it listed it as a short sale last year or $2.395 million. (It is the same real estate company handling the listing.)
Will it make a difference that it's now bank owned versus a short sale? (with all the problems buying short sales seems to entail?)
Or is the bank still too optimistic?
Jeanne Martini at Kinzie Real Estate Group now has the listing. See the pictures here.
1111 W. Wrightwood: 7 bedrooms, 6 baths, 6160 square feet, 3 car garage
Sold in January 2006 for $1.1 million (the prior property)
Originally listed in March 2008 for $2.899 million
Reduced
Lis pendens filed in April 2009
Was listed in July 2011 as a "short sale" for $2.4 million
Withdrawn in November 2011
Bank owned in May 2012
Currently listed for $2.395 million
Taxes of $6463 (they were $27,776 last year which makes me think this is a typo of some kind.)
Central Air
Elevator
Bedroom #1: 21×16 (third floor)
Bedroom #2: 13×13 (second floor)
Bedroom #3: 13×11 (second floor)
Bedroom #4: 13×10 (second floor)
Bedroom #5: 12×10 (second floor)
Bedroom #6: 14×10 (lower level)
Bedroom #7: 17×12 (lower level)