Historic Carl Street Studio 2-Bedroom Triplex Returns To Try Again: 155 W. Burton in Old Town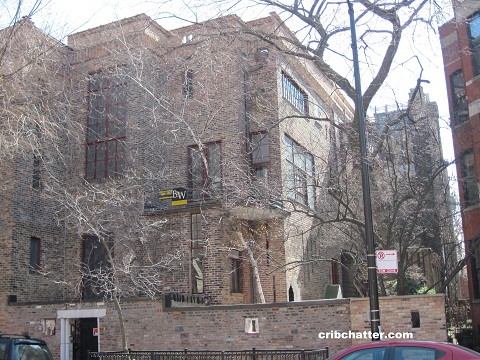 We've chattered about this unique 2-bedroom triplex in the historic Carl Street Studios at 155 W. Burton in Old Town several times before including, most recently, in May 2011.
See our May 2011 chatter here.
It has been on and off the market since September 2007, when I first started this blog, with no luck. (In fact, it was among one of my very first posts.)
The Carl Street Studios is one of the most unique properties in Old Town.
Originally built as a mansion in the 1880s, it was converted into the "studios" in 1927. There are only 16 units.
This triplex has ornate mosaic multicolor tile work, stained glass windows and the original Edgar Miller frescoes.
It also has a 2-story wood beamed ceiling, 3 fireplaces and a private 700 rooftop deck (which also is where one of the fireplaces is located).
Not everything is "historic" as the unit has central air and an in-unit washer/dryer.
However, there is no parking. You have to rent it nearby.
The bedrooms are also split- with one on the second floor and the master on the third level.
The unit has now been reduced $200,000 from its first listing in September 2007.
It is also $136,000 under the 2005 purchase price.
Last May, at least one of you thought this would eventually sell for around $450,000.
Will this unique unit finally find the right buyer in 2012?
Mario Greco at Prudential Rubloff now has the listing. See the pictures here.
Unit #15: 2 bedrooms, 2 baths, 1600 square feet
Sold in September 1999 for $360,000
Sold in November 2005 for $635,000
Was listed in September 2007 for $699,000
Cancelled
Was listed in November 2009 for $599,000
Cancelled
Was listed in May 2012 for $549,000
Cancelled
Currently listed at $499,000
Assessments now $921 a month (they were $935 a month last year) (includes heat)
Taxes of $9404
Central Air
Washer/Dryer in the unit
No deeded parking- leased in the neighborhood
3 fireplaces- including one on the roofdeck
Bedroom #1: 17×20 (third floor)
Bedroom #2: 11×17 (second floor)
Office: 7×4