112 Years Later, The Bank Owns This Mansion Again: 2100 W. Pratt Blvd in West Ridge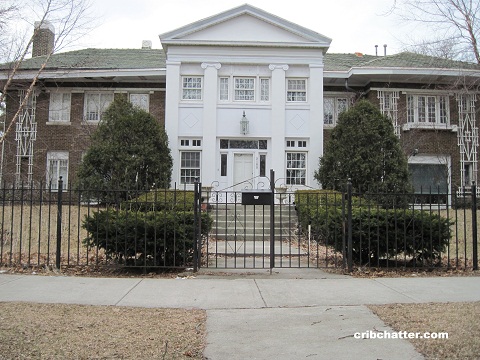 We've chattered about "The Pratt Mansion", as I'm calling it, at 2100 W. Pratt Boulevard in West Ridge several times over the last couple of years.
See our January 2012 chatter here.
It was in distress as the bank had filed a lis pendens foreclosure all the way back in 2010. The house had been previously listed as a short sale in 2010 and 2011.
In our last chatter in January, I asked if the house would sell BEFORE the bank took it back.
We now have the answer to that: No.
112 years after it was built, the bank has now taken the 8,865 square foot house (plus chauffeur's apartment) back.
And yes, it's now cheaper than ever.
The bank has reduced it to just $749,900.
Built in 1900, the previous listing said it was a summer home and took 4 years to complete.
The 5-bedroom home has hardwood floors throughout and 5 fireplaces.
Built on an oversize 187×150 lot, there is a 3-car garage which the prior listing said was also the original chauffeur's quarters.
20 years ago an indoor pool was also added to the house (you can check it out in the pictures- it has now been drained.)
The kitchen has white cabinets, black counter tops but the appliances are now missing.
There is central air.
The house sits across from Warren Park's golf course.
The old listing said it was a "home with a lot of history."
Is this house finally a steal at this price?
Richard Babula at Century 21 Rainbo Realty now has the listing. See the latest pictures here. (These are "new" pictures. Yipee!)
2100 W. Pratt Boulevard: 5 bedrooms, 4 baths, 3 half baths, 12,000 square feet (new listing says 8865 square feet- so maybe it is excluding the chauffeur's apartment), 3 car garage
Last sold in 1900
Lis pendens foreclosure filed in October 2010
Originally listed in January 2011 for $2.45 million
Was still listed in March 2011 for $2.45 million
Reduced
Was listed in June 2011 at $1.89 million
Reduced several times
Was listed in January 2012 at $1.29 million
Reduced
Was listed in April 2012 at $848,000
Withdrawn
Re-listed as "bank owned" at $749,900
Taxes now $16036 (they were $14,225 previously)
Central Air
Indoor Pool
5 fireplaces
Bedroom #1: 20×26 (second floor)
Bedroom #2: 15×15 (main floor)
Bedroom #3: 14×12 (main floor)
Bedroom #4: 20×19 (second floor)
Bedroom #5: 17×10 (second floor)