We Love 2-Bedroom Modern Duplexes With Private Landscaped Terraces: 925 N. Wolcott in West Town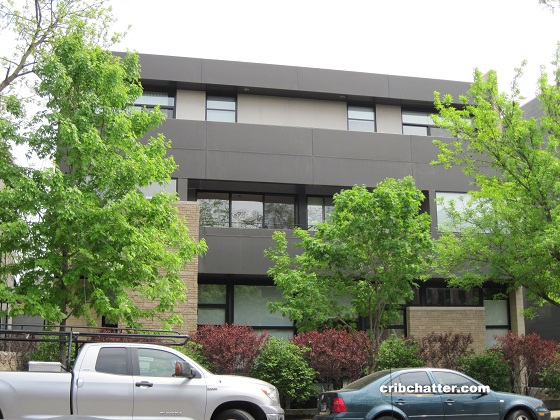 This 2-bedroom duplex at 925 W. Wolcott in West Town recently came on the market but it might seem familiar to long time Crib Chatter readers as we chattered about it back in July 2009.
See our prior chatter here.
Back in 2009, it was a 3-bedroom, but many thought it was really a 2-bedroom (and it's now being marketed as a 2-bedroom.)
Many also thought it was overpriced at $565,000 and some actually thought it would sell in the $300,000s.
It ended up selling in September 2009 for $515,000.
If you recall this is a set of Studio Dwell and Ranquist developed buildings set next to each other on Wolcott.
This building has 9 units.
The unit has upscale finishes including Arclinea cabinets in the kitchen along with Meile and SubZero appliances.
There is a rain show in one of the baths.
The duplex has a 20-foot wall of windows that overlooks a private, landscaped 32×15 terrace.
One bedroom and a den are on the second floor while the second bedroom is on the main floor.
It has garage parking, central air and in-unit washer/dryer.
The unit came out of the gate listed $16,000 under the 2009 price.
Will it sell close to ask this time around?
Ian Schwartz at Coldwell Banker has the listing. See the pictures here.
OR you can go to the Open House on Sunday July 22 from 1 PM to 3 PM.
Unit #104: 3 bedrooms, 2 baths, duplex, no square footage listed
Sold in July 2004 for $470,000
Was listed in December 2008 for $579,800 (plus $19,800 for parking)
Reduced
Was listed in July 2009 for $544,800 (plus $19,800 for parking)
Sold in September 2009 for $515,000 (included the parking)
Currently listed at $499,000  (includes the parking)
Assessments now $324 a month (they were $187 a month in 2009)
Taxes now $7256 (they were $5,855 in 2009)
Central Air
Washer/Dryer in the unit
Private terrace: 32×15
Bedroom #1: 14×14 (second floor)
Bedroom #2:11×10 (main floor)
Office: 16×11 (second floor)