The New Reality in Sauganash: 5-Bedroom Tudor Goes From List of $800K to Sale at $425K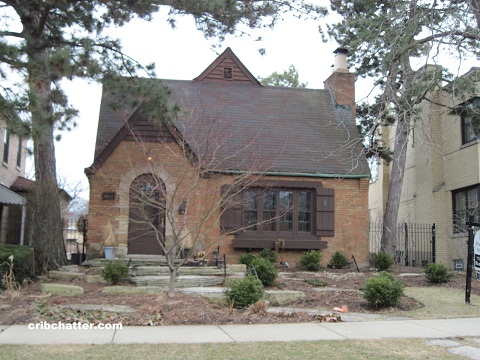 Thanks to those who pointed out that this 5-bedroom tudor at 5919 N. Forest Glen in Sauganash had finally sold.
I had been tracking it for awhile but it was taking forever to close so it slipped from my "watch" list. (It took 7 months to finally close.)
We've chattered about this house several times over the last 2 years.
See our prior chatter in October 2011 here.
At that time, the house was priced at $545,000. Many of you thought a price around $500,000 would get it done and some of you said you would go look at it if it was priced that low.
In November 2011, it was lowered to $499,000 and then went under contract.
It finally closed at the end of June 2012 for just $425,000.
If you recall, it was built in 1930 on a 40×125 lot.
The house had many of its vintage features intact.
The living room had a hand hewed beamed cathedral ceiling with the original hand carved floor to ceiling wood fireplace mantle.
In the living room, there was also a unique 6 foot hand carved chandelier.
The kitchen had been updated with stainless steel appliances, what look to be stone counter tops and an eat-in breakfast nook as well as a kitchen island.
2 of the 5 bedrooms were on the second floor, 2 were on the main floor and one was in the basement along with the family room.
The house had central air and a 2-car garage.
Does this closing blow the comps out of the water for the other homes in the Sauganash neighborhood?
Or was this just the steal of the year?
Ron Meadows at Prudential Rubloff had the listing. You can still see interior pictures here.
5919 N. Forest Glen: 5 bedrooms, 3 baths, no square footage listed, 2 car garage
Sold in October 1985
Sold in May 2004 for $749,000
Originally listed in April 2010 for $800,000
Lis pendens foreclosure filed in November 2010
Reduced several times
Was listed in March 2011 for $725,000
Reduced
Was listed in July 2011 at $675,000
Reduced
Was listed in October 2011 at $545,000
Reduced
Was listed in November 2011 at $499,000
Sold in June 2012 for $425,000
Taxes of $7441
Central Air
Bedroom #1: 13×13 (second floor)
Bedroom #2: 13×16 (second floor)
Bedroom #3: 12×15 (main floor)
Bedroom #4: 12×13 (main floor)
Bedroom #5: 12×10 (basement)
Family room: 23×17 (basement)