This 2-Bedroom Gold Coast Townhouse Has Seen It All During This Housing Bust: 820 N. Dearborn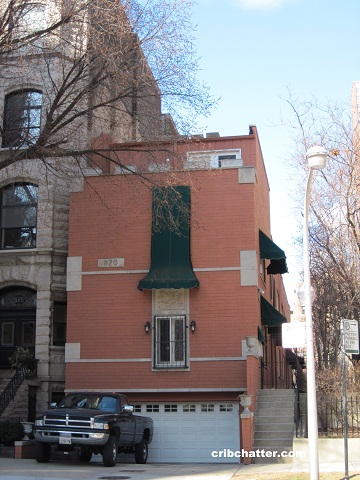 Talk about a microcosm of the market.
This 2-bedroom townhouse at 820 N. Dearborn in the Gold Coast has gone from a foreclosure in 2009, to being rehabbed in 2010, to being rented out in 2011 and now it is listed for sale once again.
We've actually chattered about it several times over the years- when it was both bank owned and after the rehab.
See our last chatter about it, in March 2011, here.
At that time, it was listed at $530,000 and several of you thought it would sell for just under $499,000 (or within 10% or so of that price.)
In August 2011, it was reduced even further, and was listed at $499,900, before being withdrawn from the market. It looks like it was put up for rent at $3700 a month. (I don't know what it ultimately rented for- but if someone has the info from the MLS, for instance, please share.)
A year later, it has come back to test the market again and is priced at $500,000.
If you recall, the kitchen has been renovated with cherry cabinets, stainless steel appliances and granite counter tops.
The bathrooms have marble floors.
The top floor space is now a family room (with a full-sized bath and wet bar) with a private deck and skylights.
The two bedrooms are on the second floor.
It has one car parking and a parking pad.
There are four units in the complex.
Will this seller be rewarded for his patience (by renting it out) with a sale in 2012?
Todd Mackay at Dream Town has the listing. See the pictures here.
Unit #B: 2 bedrooms, 2.5 baths, 1800 square feet, 1 car parking plus second space in parking pad
Sold in January 1996 for $230,000
Sold in June 2005 for $477,500
Sold in May 2007 for $750,000
Lis pendens in April 2008
Bank owned as of May 2009
Originally listed in June 2009 for $589,900
Reduced
Was listed in July 2009 for $539,900
Sold in November 2009 for $415,000
Originally listed in June 2010 for $550,000
Reduced
Was listed in March 2011 for $530,000
Reduced
Was listed in August 2011 for $499,900
Withdrawn
On the rental market in August 2011 for $3700 a month
Has come back on the market in August 2012 at $500,000
(Looks like it was also listed on Craigslist in July 2012  for $4000 a month)
Assessments of $146 a month
Taxes now $7932 (they were $10,291 in March 2011)
Central Air
Skylights
Bedroom #1: 16×13 (second floor)
Bedroom #2: 12×11 (second floor)
Kitchen: 8×9
Family room: 16×13 (third floor)