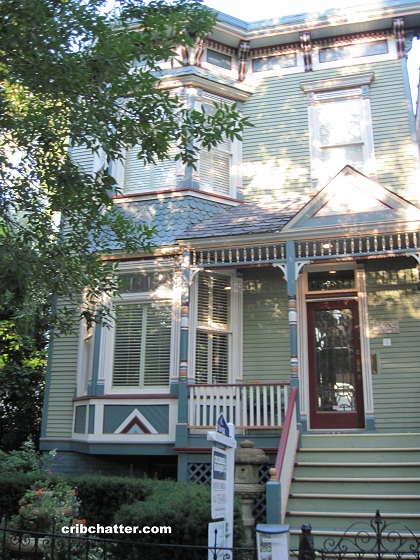 We last chattered about this 4-bedroom Victorian at 2029 N. Seminary in Lincoln Park in February 2012.
See our prior chatter here.
Many of you liked the house but were disappointed with the lack of true vintage features in the interior.
Listed for $1,574,900 back in February, the house is still priced the same 7 months later.
Built in 1861 on a 25×124 lot, the house pre-dates the Chicago fire (making it among the oldest houses we've ever chattered about) and the oldest in West Lincoln Park.
The listing says it was originally a farmhouse.
With 3 fireplaces it still has its antique mantles and leaded glass.
It also has the modern amenities of central air and a 2-car garage.
The extensive listing says it was last renovated in 1992 (when it also last sold.)
The kitchen has white cabinets and black appliances.
Back in February, on the listing page on Coldwell Banker, it said this property had been viewed 2,690 times. Now, the property has gotten 6,519 views.
There are also several videos of it and the block by YoChicago and Chicago Magazine  if you read the comments in the prior chatter. You can't say it hasn't gotten publicity.
But with the spring/summer busy season now ending, will this house have to wait until until 2013 to sell?
Jennifer Ames at Coldwell Banker still has the listing. See the pictures and floorplan here.
2029 N. Seminary: 4 bedrooms, 3.5 baths, no square footage listed, 2 car garage
Sold in May 1992 for $560,000
Originally listed in June 2010 for $1,749,000
Reduced
Was listed in February 2012 at $1,574,900
Currently still listed at $1,574,900
Taxes of $16573
Central Air
Bedroom #1: 15×19 (second floor)
Bedroom #2: 15×12 (second floor)
Bedroom #3: 11×11 (second floor)
Bedroom #4: 13×15 (lower level)
Recreation Room: 19×14 (lower level)