Are You Falling In Love With The 2-Bedroom Loft Or The Expert Staging? 515 N. Noble in West Town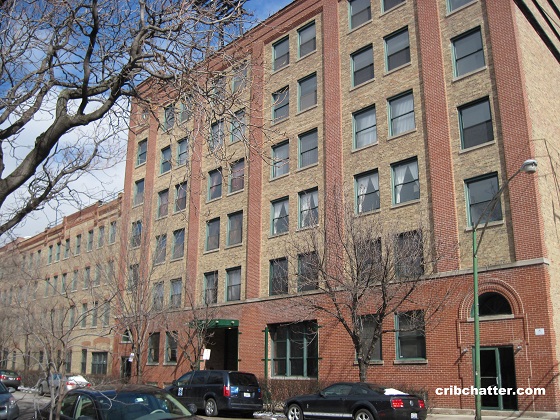 Sellers could learn a lot from the marketing of this 2-bedroom loft at 515 N. Noble in the Noble Square neighborhood of West Town.
Back in March 2012, this was a bank owned unit.
At 1000 square feet, it was a large 1-bedroom loft with 12 foot timber ceilings and exposed brick which sold for just $106,000 (parking included.)
Unfortunately, the old listing does NOT have any interior photos with it.
But you can see the bank owned listing here.
6 months later the unit has come back on the market as a 2-bedroom with a "new" kitchen and bathroom.
The kitchen has honed marble counter tops, stainless steel appliances and modern white cabinets (have you noticed that most of the rehabs we've seen with new kitchens have had white cabinets? White is "in" again.)
This unit is expertly staged with gorgeous furniture, strategically placed huge mirrors propped up in hallways and bedrooms and even a bowl of lemons on the kitchen counter top.
It reminds me of a model home like the ones they used to have on the old Parade of Homes in the 1980s (before there was House Hunters and other cable shows about real estate.)
The loft has come back on the market at $153,000 more than the March 2012 sale.
It is also, as I said, a 2-bedroom (which is more marketable at this price point than a 1-bedroom.)
Will the staging get this rehabber a quick sale at a big profit?
Karl Vogel at @Properties has the listing (and also owns the unit). See the pictures here.
Unit #110: 2 bedrooms, 1 bath, 1000 square feet
I couldn't find an original sale price
Lis pendens foreclosure filed in May 2010
Bank owned in August 2011
Sold in March 2012 for $106,000 (parking included)
Currently listed at $259,000 (parking included)
Assessments of $224 a month (includes cable)
Taxes of $2170
Central Air
Washer/Dryer in the unit
Bedroom #1: 14×12
Bedroom #2: 13×9