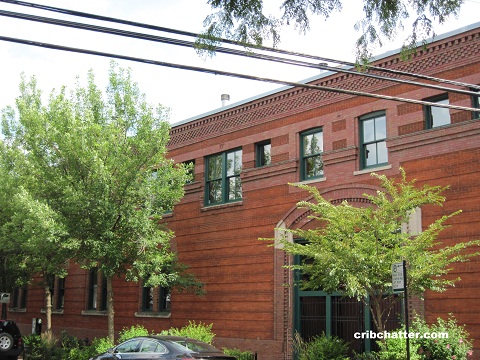 We last chattered about this 2-bedroom loft in the Mandel Brothers Lofts at 811 W. Aldine in Lakeview in July 2012.
See our prior chatter here.
At the time, the loft was bank owned and yet it was listed just 3% under the 2004 price.
Most of you thought the price was too high (no shock there) and that the pictures weren't doing it any favor (standard bank owned pictures, I'm afraid.)
Someone did say that a price somewhere between the 2001-2002 price would be more like it.
It's now been reduced twice since our last chatter and was recently dramatically reduced $50,000.
It is now listed well below the 2001 price.
If you recall, this loft is a Fannie Mae Homepath property which allows the purchaser to buy it for just 3% down.
At 1400 square feet, it has exposed brick walls and timber ceilings.
I can't tell if it's on one level or multiple levels. It appears to have a sizable 10×16 deck (maybe a roofdeck?)
It also appears from the pictures that the kitchen and baths are intact.
The kitchen has white cabinets, granite counter tops and stainless steel appliances (although it looks like the refrigerator is missing.)
The listing says it doesn't have central air and it doesn't say anything about washer/dryer- but other units in the building that we chattered about in prior years had both of those things. Sometimes the distress listings are not completely accurate.
The listing also lists 2-car parking and then in another location says parking is not included.
Is this finally a deal at below the 2001 price?
Ayoub Rabah at Great Street Properties still has the listing. See the pictures here.
Unit #5NF: 2 bedrooms, 2 baths, 1400 square feet
Sold in June 2001 for $362,000
Sold in September 2002 for $388,000
Sold in June 2003 for $401,000
Sold in July 2004 for $421,500
Lis pendens foreclosure filed in March 2011
Was listed in July 2012 as a "Fannie Mae Homepath" property at $408,900
Reduced
Currently listed at $324,900
Assessments of $333 a month
Taxes of $7126
No central air???
Washer/Dryer not mentioned
Possibly 2-car parking (???)
Bedroom #1: 13×16
Bedroom #2: 10×13
Deck: 10×16 (third floor?)