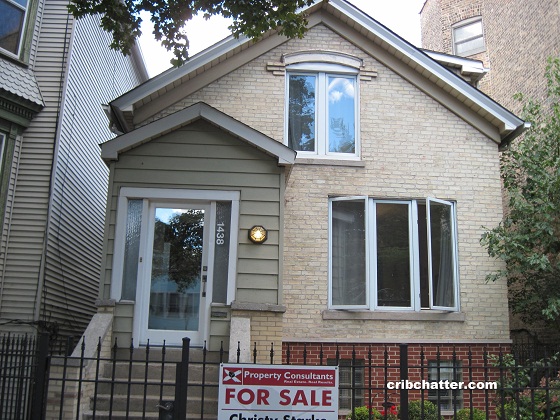 We last chattered about this 2-bedroom single family home at 1438 W. Henderson in the Southport neighborhood of Lakeview in September 2012.
See our previous chatter here.
The listing calls it a "doll house" as it's only 1550 square feet.
In September, many of you thought the price of $625,000 was crazy for a 2-bedroom home and that it was likely going to be a tear down anyway.
However, no one has taken a bite since then. It's still on the market and now listed $10,000 higher at $635,000.
If you recall, while the house has 2 bedrooms, it doesn't have 2 full baths. It has a half bath in the semi-finished lower level, a half bath on the main level and a full bathroom on the second floor or 1.75 baths.
The house is built on a standard Chicago lot of 25×125 and has a 2-car garage.
It has a brick paver backyard with a deck and a hot tub.
There is a family room adjacent to the kitchen which has black appliances and black granite counter tops.
There are arched doors in the living and dining room.
It does have central air and a 2 car garage.
Will this house finally sell in 2013?
And for what price?
Christy Starks at Property Consultants Realty still has the listing. See the pictures here.
1438 W. Henderson: 2 bedrooms, 1 bath, 2 half baths, 1550 square feet, 2 car garage
Sold in February 2004 for $560,000
Sold in June 2007 for $707,000
Originally listed in April 2012
Was listed in August 2012 for $645,000
Reduced
Was listed in September 2012 at $625,000
Currently listed at $635,000
Taxes of $9961
Central Air
Bedroom #1: 15×14 (second level)
Bedroom #2: 12×12 (second level)
Family room: 12×21 (main level)