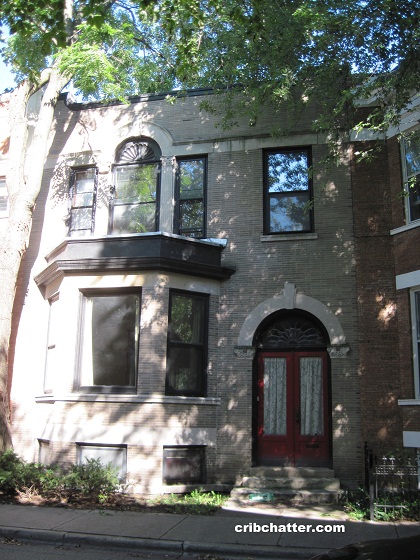 We've chattered about rowhouses on historic Alta Vista in Lakeview many times on Crib Chatter. This is the block long street with 40 rowhouses made to resemble London rowhouses. It is a landmark block.
This 4-bedroom rowhouse at 3837 N. Alta Vista has been on the market since May 2012.
Built in 1901, it is on a 25×50 lot.
The listing doesn't mention parking. Some on this block have parking (or room for it) in the backyard- and some do not.
On this block, it can be hit or miss with some rowhouses completely renovated and others not at all.
The listing says this rowhouse has wood floors and extensive woodwork. That appears to be the original tile surround on the fireplace.
The listing also says the kitchen has "newer" white cabinets.
This property was just reduced $50,000 to $450,000.
It is a short sale. A lis pendens foreclosure was filed against it in early November but the banks have been trying to sell properties through the short sale process where they are getting higher prices- rather than take the property back.
Will this sell as a short sale before it ever goes back to the bank?
And is this a deal for this block?
(By the way- of interest- the Coldwell Banker web site says this property had been viewed nearly 1600 times since May- and still no one has bought it.)
Pete Rodgriguez at Coldwell Banker has the listing. See the pictures here.
3837 N. Alta Vista: 4 bedrooms, 1.5 baths, no square footage listed
Sold in March 2006 for $529,000
Originally listed in May 2012 for $500,000
Lis pendens foreclosure filed in November 2012
Reduced
Currently listed as a "short sale" at $450,000
Taxes of $9658
Central Air
No parking listed
Bedroom #1: 15×12 (second floor)
Bedroom #2: 12×14 (second floor)
Bedroom #3: 10×11 (second floor)
Bedroom #4: 10×10 (second floor)
Listing also mentions a 5th bedroom in the basement with finished bath