1 1/2 Years Later, This 2/2 Is Now Owned By Fannie Mae: 2757 N. Lincoln In Lincoln Park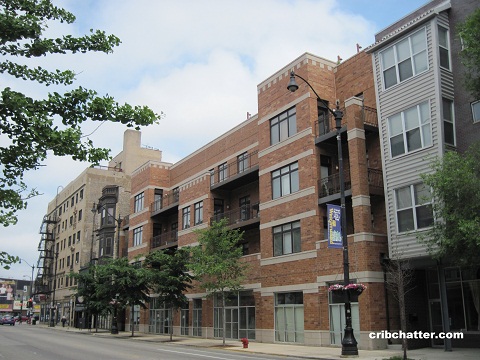 We've chattered about this 2 bedroom at 2757 N. Lincoln in the north end of Lincoln Park twice in the last year and a half.
See our November 2011 chatter here.
Back then, the unit was listed as a short sale and had just done a $60,000 drama price reduction (which evidently didn't work- because the bank took it back.)
But our chatter was interesting as we debated how much lower prices could go and whether or not there would be some type of mortgage forgiveness. (And wow- were we GLOOMY in 2011.)
Back in November 2011, this property had been reduced to $369,000 but most of you thought that still wasn't low enough.
Some of you actually thought it would sell under $300,000 but others thought $350,000 to $360,000 was more realistic.
It has now come back on the market from Fannie Mae listed at $399,900.
If you recall, the unit has upscale finishes including Wolf, Subzero, Bosch and Dacor stainless appliances.
From the pictures, it appears that the kitchen is still intact except for one vacant lower level cabinet.
In the pictures, the refrigerator, dishwasher and stove are still there- so what was the big empty hole in the cabinets? Bonus points to anyone who knows the answer.
The master bedroom has a spa bath.
There is a fireplace, crown molding, hardwood floors throughout and 2 outdoor spaces.
The unit has central air, washer/dryer in the unit and garage parking is included.
Will this 2/2 sell for closer to $400,000 than the $300,000 some of you guessed in 2011?
Benjamin Beaty at Jameson Sotheby's has the listing. See the pictures here.
Unit #302: 2 bedrooms, 2 baths, no square footage listed
Sold in May 2007 for $520,000
Originally listed in June 2011 for $479,000
Reduced
Was listed in July 2011 as a "short sale" for $429,000 (garage parking included)
Reduced
Lis pendens foreclosure filed in October 2011
Was listed as a short sale in November 2011 at $369,000 (garage parking included)
Withdrawn
Now owned by Fannie Mae
Currently listed at $399,900 (includes the parking)
Assessments now $264 a month (they were $251 a month in November 2011)
Taxes now $8060 (they were $7750 in 2011)
Central Air
Washer/Dryer in the unit
Bedroom #1: 13×12
Bedroom #2: 14×11