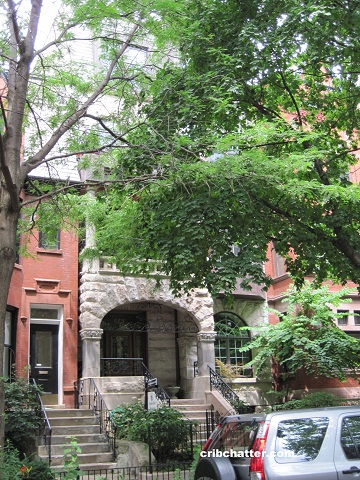 We've chattered about this 2-bedroom in the 4-unit vintage building at 562 W. Arlington in Lincoln Park twice before.
The building was converted into upscale condos in 2005 with custom finishes.
The kitchen is described as a "gourmet wraparound" with Viking and SubZero appliances.
There is a spa like bath in the master bath, central air, washer dryer in the unit and gated secure parking.
Back in 2008, it was originally listed at $699,000 and many of you thought that was reasonable for the location.
See our February 2008 chatter here.
But G tried to talk some sense into you.
"I'm with you, Tipster. The responses here indicate why some prices will be very sticky on the way down.

But down they will go. Anyone who buys anywhere near 2005 prices will learn this all too well."
Kenworthey, an early poster on this site, was doubtful that Lincoln Park prices would fall below the 2005 price of $600,000.
"I'm not trying to sound like the NAR here, but there is SOMETHING to be said for the idea that real estate is at least sometimes local. When I think of Chicago's bubble, I think of downtown and its immediate environs (Streeterville, South Loop, River North, Gold Coast) with a frenzy of overbuilding purchased by speculators. I also think of the sketchier far-out neighborhoods (like Englewood, Rogers Park, Bronzeville, Humbolt Park) being inflated by lax and often fraudulent lending.

In contrast, areas like Lincoln Park and Hyde Park–stable, not particularly overbuilt–were certainly not immune from the bubble, but I do think that they weren't as inflated. If they didn't go up as much, they shouldn't come down as much. Which is why I think a place like this–asking $700K on a street where virtually all of its neighbors are 1.5 million and above–as not an unreasonable price.

I guess we'll see in five years."
In June of 2011, it came on the market again, listed at $595,000 but it never sold.
It's now 5 years later.
The unit came on the market at $559,000, or $66,000 under the 2008 price,  and $41,000 under the 2005 price, and almost immediately went under contract.
Some have e-mailed me and said, "wow, look how hot the market is. This vintage apartment went under contract almost instantly."
Is it truly "hot" or was it simply finally priced right?
And has G been vindicated in his belief that prices everywhere- even in Lincoln Park- would keep falling?
Mary Ann Genellie at Prudential Rubloff has the listing again. See the pictures here.
Unit #2: 2 bedrooms, 2 baths, no square footage listed
Sold in June 2005 for $600,000
Was listed in February 2008 for $699,000
Sold in August 2008 for $625,000
Was listed in June 2011 for $595,000
Withdrawn
Re-listed in January 2013 at $559,000
Under contract within days
Assessments still $200 a month
Taxes now $9091 (they were $8623 in June 2011)
Central Air
Washer/Dryer in the unit
Gated parking included
2 decks- one on the front and one on the back
Bedroom #1: 15×11
Bedroom #2: 13×11