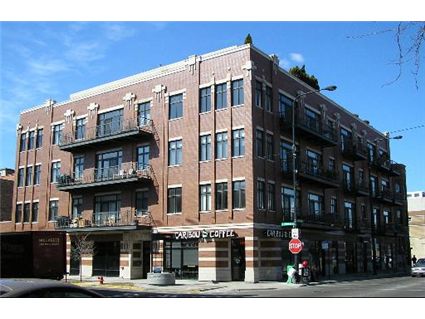 We last chattered about this 3-bedroom penthouse duplex up at 800 W. Cornelia in Lakeview in December 2009.
See our prior chatter here.
Some of you may remember this unit because the realtor chimed in wondering if Groove, Jon and Sonies were paid by CribChatter (um…safe to say the answer to that would be "no.")
But he did clear up the story behind the third bedroom which used to be a den but was closed off and has a closet so it now qualifies as a bedroom (was 9×8 in 2009 and is now 10×7.)
If you recall, the main living areas are on the first floor along with two of the bedrooms.
The kitchen has cherry cabinets, granite counter tops and stainless steel appliances.
The master bedroom and family room are on the second level along with a 26×15 terrace with city views.
There's also a wet bar and the unit has 12 foot ceilings.
It's an elevator building and it comes with the highly coveted 2-car garage parking.
It came on the market in September 2012 at $40,000 above the 2010 purchase price, or $695,000, but has since been reduced to $639,000.
Back in 2009, some of you thought it would sell in the high $500,000s or the low $600,000s.
Are you sticking by your predictions the second time around?
Or has the market changed your outlook even further since 2009-2010?
Kevin Tatum at @Properties again has the listing (be kind to him.) You can see the pictures here.
Unit #408: 3 bedrooms, 2.5 baths, there's no square footage listed this time but in 2009 it was 1825 square feet
Sold in November 2004 for $614,000
Listed in October 2009 for $699,000
Sold in May 2010 for $655,000
Listed in September 2012 for $695,000
Reduced several times
Currently listed at $639,000
Assessments are now $509 a month (they were $476 a month in December 2009) (includes cable)
Taxes are now $9914 (they were $10,359 in 2009)
Central Air
Washer/Dryer in the unit
Fireplace
Bedroom #1: 16×13 (second floor)
Bedroom #2: 12×11 (main floor)
Bedroom #3: 10×7 (main floor- was 9×8 in prior listing in 2009)
Family room: 16×13 (second floor)
Terrace: 26×15