Nearly 5 Years Later, This 3-Bedroom Is Still 3 Blocks From The Water Tower: 29 W. Chestnut In The Gold Coast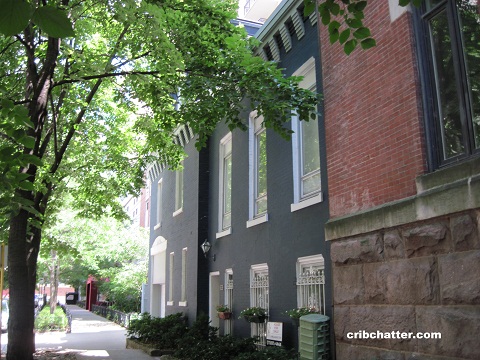 We last chattered about this 3-bedroom unit in a vintage carriage house at 29 W. Chestnut in the Gold Coast all the way back in August 2008 (when Crib Chatter was first getting started!).
See our 2008 chatter here.
The triplex unit never sold and was on and off the market the last 5 years.
The property came back on the market in January 2013 to try again.
Despite it being nearly 5 years later, the listing sounded basically the same.
The carriage house was built in 1889 and has 5 units.
It still has a "newly remodeled kitchen designed by award-winning architect: John Vinci" with stainless steel appliances and stainless looking cabinets.
2 of the 3 bedrooms are on the third floor with the third on the main floor. The living/dining and kitchen are on the second floor.
It has 12.5 feet ceilings, central air and a private attached garage.
Both the listing from 2008 and the one from 2013 point out that the property is just 3 blocks from the Water Tower.
When we  last chattered about it in 2008 it was listed at $849,000.
It came on the market in January 2013 for $795,000 and was just recently reduced to $785,000.
Will this finally sell in 2013 and at what price?
Marlene St. George at Baird & Warner still has the listing. See the pictures here.
Unit #5A: 3 bedrooms, 2.5 baths, 2000 square feet, triplex, attached 1-car garage
Sold in January 1997 for $265,000
Sold in November 2001 for $440,000
Was listed in August 2008 for $849,000
Withdrawn in February 2009
Re-listed in January 2013 for $795,000
Reduced
Currently listed at $785,000
Assessments of $122 a month (they were $183 a month in 2008)
Taxes of $3900 (they were $5469 in 2008)
Central Air
Bedroom #1: 13×18 (third level)
Bedroom #2: 11×10 (third level)
Bedroom #3: 10×10 (main level)