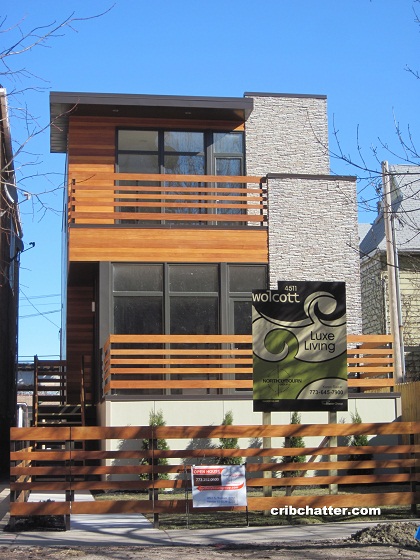 This 4-bedroom new construction contemporary at 4511 N. Wolcott in Lincoln Square came on the market January 2, 2013.
It's on an oversized lot measuring 25×152 and has a 2-car garage.
Three of the four bedrooms are on the second floor and the fourth is on the main level.
The lower level has a large 55×18 family room with a bathroom.
The listing says it has an "open floor plan" and modern cabinetry along with a floating staircase.
There are no pictures of the interior with the listing but we've seen enough of the new construction contemporaries to have an inkling of what it looks like.
This house is listed at $799,000.
What's the catch?
The brown line El tracks run directly behind it.
The house that stood in this location before was on the market for 2 years before finally selling in August of 2012 for $170,000.
A Redfin agent who has toured the new property says there are very few windows in the back of the house.
I have linked to the floorplan below so you can see for yourself. The deck on the second story actually belongs to the master bedroom.
Will this be a hard sell at this price?
Or will the "newness" trump the El track?
Karen Biazar at the North Clybourn Group has the listing. See the floorplan here.
Or see it at the Open House this Sunday, February 24 from 11:00 AM to 12:30 PM.
4511 N. Wolcott: 4 bedrooms, 3 baths, 3200 square feet, 2 car garage
Previous house sold in August 2012 for $170,000
Originally listed in January 2013 for $799,000
Currently still listed for $799,000
Taxes are "new"
Central Air
Bedroom #1: 16×14 (second floor)
Bedroom #2: 11×12 (second floor)
Bedroom #3: 11×10 (second floor)
Bedroom #4: 10×13 (main floor)