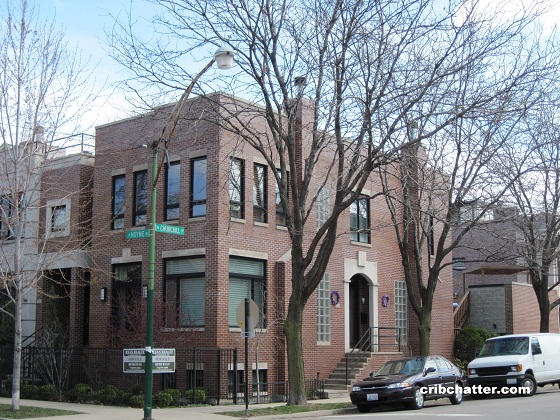 This 5-bedroom single family home at 2050 W. Churchill in Bucktown was first listed in December 2010 and stayed on the market for 7 months.
It never sold.
It's back on the market and has been reduced. I couldn't find the original 2010 list price but in January 2011 it was listed at $1.199 million.
It's now listed at $999,900.
It's on the corner of Churchill and Hoyne so that gives it a rare front entrance on the side of the house.
The listing says it has a "chef's kitchen" with granite counter tops, maple cabinets and upgraded stainless steel appliances.
3 of the 5 bedrooms are on the second floor. The other two are in the lower level along with the family room.
Built on a smaller than standard Chicago lot of 24×100, it has a deck on top of the 2-car garage for entertaining.
There is also the possibility of a rooftop deck (you can see the easy access door in one of the listing pictures.)
The house is listed just $64,900 above the 2003 purchase price.
Is this a deal for the location and square footage?
Beth Ryan at Ryan Realty & Associates has the listing. See the pictures here.
OR see it at the Open Houses on Saturday March 9 from 10:30 to 11 AM or Sunday March 10 from 11- 12 PM.
2050 W. Churchill: 5 bedrooms, 3.5 baths, 3200 square feet, 2 car garage
Sold in August 2003 for $935,000
Originally listed in December 2010 (I couldn't find the original list price)
Was listed in January 2011 for $1.199 million
Withdrawn in June 2011
Recently re-listed for $999,900
Taxes of $9788
Central Air
Bedroom #1: 20×16 (second floor)
Bedroom #2: 13×11 (second floor)
Bedroom #3: 14×11 (second floor)
Bedroom #4: 15×12 (basement)
Bedroom #5: 12×10 (basement)