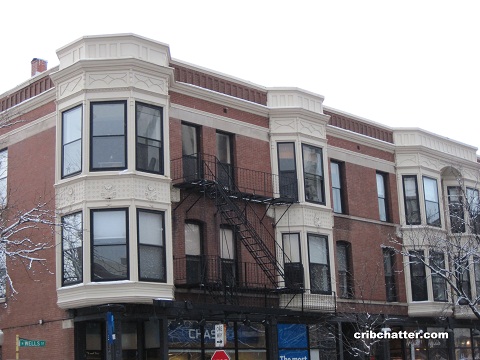 We last chattered about this 3-bedroom in Crilly Court at 1708 N. Wells in Old Town in January 2013.
See our prior chatter here.
Over the last few years, owners in Crilly Court have been some of the few that have either made money or broke even on their 2007 purchases. (The buildings were converted into condos in 2007.)
If you remember the listing pictures were, um, interesting.
Most of you thought it would sell for 10% off the list of $539,000.
Bob thought it would sell at list given the low inventory.
It sold for $511,000 or $50,000 above the 2007 price.
If you recall, at 1507 square feet, this unit had two fireplaces but none of the other original historic features.
The kitchen had cherry cabinets, granite counter tops and stainless steel appliances.
It had a balcony that faced the internal courtyard.
The unit has central air, washer/dryer in the unit but NO parking.
The lack of parking didn't stop someone from paying over $500,000 for this unit.
Is this sale just another sign of the low inventory market (as Bob argued orginally)?
Mira Kovacevic at Coldwell Banker had the listing. You can still see the pictures here.
Unit #3: 3 bedrooms, 2 baths, 1507 square feet
Sold in July 2007 for $461,000
Was listed in January 2013 at $539,000
Sold in March 2013 for $511,000
Assessments of $310 a month
Taxes of $4750
Central Air
Washer/Dryer in the unit
No parking
Bedroom #1: 12×17
Bedroom #2: 11×13
Bedroom #3: 10×15