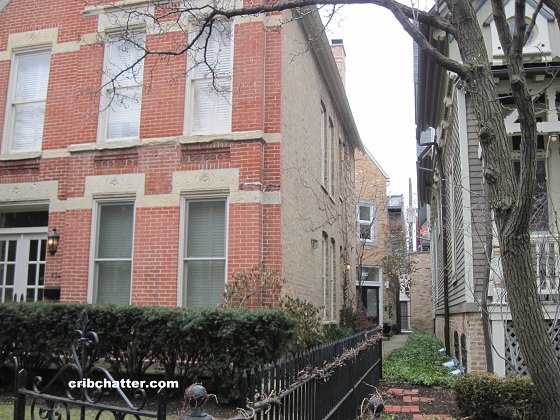 This 3-bedroom townhouse at 832 W. Wolfram in Lakeview recently came on the market.
The listing calls it a townhouse but as you can see from the picture above, it appears to be behind the house in the front. That's the door to the right behind the house in front.
Is it a coach house?
The listing says there's a monthly assessment but doesn't list it.
It does have some unique features including exposed brick walls and arched doorways.
The property has ebony wood floors.
The kitchen has white cabinets and counter tops.
There is a double height living room.
There is no floor plan listed but it appears that two bedrooms are on the main level, the living/dining/kitchen on the second level and the master bedroom on the third floor.
There is no family room.
It has central air and a 1.5 car garage.
This townhouse is listed 47% higher than the 2004 price at $678,900.
Will it get the premium?
Douglas Smith at Prudential Rubloff has the listing. See the pictures here.
832 W. Wolfram: 3 bedrooms, 2.5 baths, no square footage listed, 1.5 car garage
Sold in October 1995 for $264,000
Sold in May 2004 for $463,000
Currently listed for $678,900
Assessments are ? (they are not listed but there appears to be a monthly assessment)
Taxes of $6732
Central Air
Bedroom #1: 16×12 (third floor)
Bedroom #2: 15×11 (main level)
Bedroom #3: 9×11 (main level)
Living/dining combo: 29×18