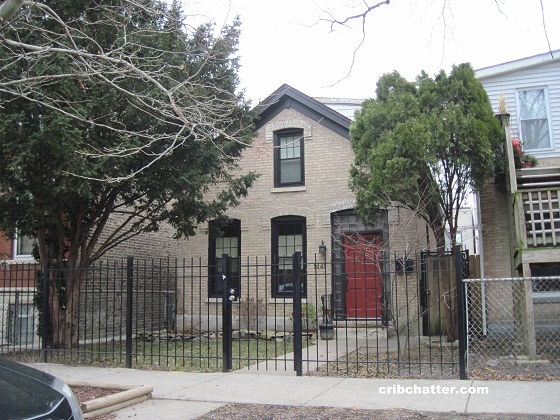 This 3-bedroom cottage at 1441 N. Campbell in East Humboldt Park recently came on the market.
Built on a standard 25×125 lot, it has a 2-car garage.
Some upgrades have been made to the home.
The kitchen has white Kraftsmaid cabinets with stainless steel appliances and a red vintage refrigerator.
There is some exposed brick.
There are dark bamboo floors on the main level.
2 of the three bedrooms are on the second level with the third on the main floor.
There is an unfinished basement.
I can't tell if the house has central air as both having it and not having it are in the public listing.
This house was previously listed a year ago in March 2012 for $369,000 but it didn't sell.
It's come back on the market at $395,000.
Will it get the higher price now that the market is hotter?
Michael Clouse at Element 78 Realty has the listing. See the pictures here.
1441 N. Campbell: 3 bedrooms, 1 bath, 1700 square feet, 2 car garage
Sold in August 1991 for $60,000
Sold in November 1999 for $70,000 (??? the public record says $7,000 but I think that's a typo given the 1991 price and it was not bank owned.)
Sold in July 2007 for $265,000
Originally listed in March 2012 for $369,000
Withdrawn at the same price in July 2012
Recently re-listed at $395,000
Taxes of $3576
Central Air (??? – listing says it has C/A but also says there is no C/A)
Bedroom #1: 15×15 (second floor)
Bedroom #2: 14×15 (second floor)
Bedroom #3: 9×11 (main floor)
Laundry room: 8×7