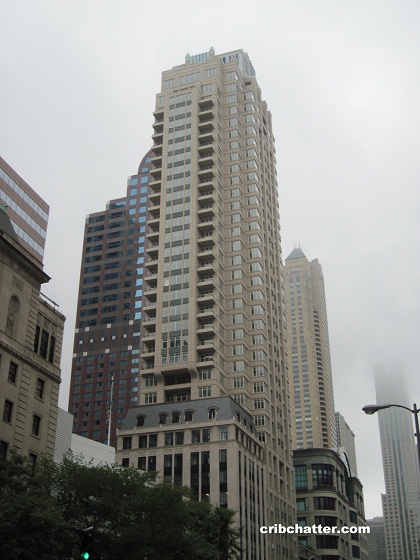 It has been one of the most anticipated buildings to begin closings since the real estate bust.
The Ritz-Carlton Residences at 664 N. Michigan in River North finally began closings in February 2013 after several delays.
Only if you looked at public records, it seemed as if nothing was closing despite the fact that, apparently at one point, nearly 40% of the building was pre-sold.
Crain's Reports:
Thirty-one buyers who agreed to purchase a condo in the 89-unit project at 664 N. Michigan Ave. dropped their sales contracts in the first quarter, according to Chicago consulting firm Appraisal Research Counselors. The development, which began marketing in 2006, had just 11 sales under contract at the end of the quarter.
Apparently, country records show just 5 condos have closed since February. Prism, the developer, says 8 sales have closed and "many" of the pending buyers who backed out of contracts are now "displaying interest" in the tower again.
"The Ritz-Carlton Residences, Chicago is also experiencing a significant increase in both broker interest and direct buyer traffic due to the recovering economy and widely reported upswing in the luxury housing market," the spokesman said in the statement.

It's unclear how the buyers got out of their contracts. Purchase contracts for new condos often allow buyers to back out and get their earnest money back if the developer fails to complete their units by a certain deadline. A buyer who had a contract on a $1.7 million Ritz condo sued last fall to get his earnest money back, citing repeated delays in the project. Cook County court records show the case has been dismissed.

Though housing is recovering, the comeback has been driven from the bottom of the market rather than the top, said Jim Kinney, vice president of luxury sales at Baird & Warner Inc. Ultra-luxury buyers such as Kenneth Griffin have made recent big splashes, but homes worth $1 million or more failed to keep pace with the broader market last year.

That could be problematic for the Ritz, which at $1,200 per square foot is the most expensive active condo development in Chicago, according to Appraisal Research. The other two active luxury towers, Lincoln Park 2550 and the Trump International Hotel & Tower, asked $800 and $819 per square foot, respectively, for unsold condos in the first quarter.

"(The Ritz is) noticeably quite a bit more expensive, so you have to have someone who is really buying the brand," Mr. Kinney said.
The assumption is that the luxury market is red hot.
But between The Ritz-Carlton Residences and Lincoln Park 2550, there is plenty of new construction luxury inventory.
Will we see price reductions on The Ritz and LP 2550 soon?
After delays, buyers back out of Ritz condo project [Crain's Chicago Business, David Lee Matthews, June 25, 2013]