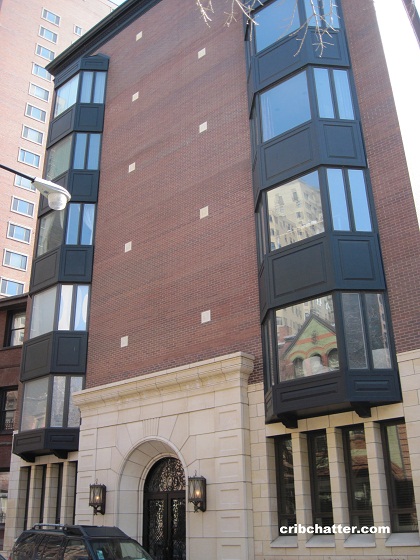 We last chattered about this 3-bedroom duplex up at 39 E. Schiller in the Gold Coast in February 2013.
See our prior chatter here.
Back then, it was bank owned after being on the market before that as a short sale.
It also was a 2-bedroom with a family room and now it is simply a 3-bedroom. (Was it smart to make it a 3-bedroom?)
At 2800 square feet (it was 2400 square feet in the previous listing), some of you who saw it said it needed to be totally gutted and the chatter revolved around how much it would cost to fix it up and whether or not it could be flipped.
Some thought it would cost a couple of hundred thousand to fix up properly. Others thought $50,000 could do the trick. Helmethofer wondered if a renovator could add a lot of can lights to bring in extra light.
Listed by the bank at $399,000 it sold in March 2013 for $467,000.
It has come back on the market with a new kitchen, baths, and new can lights 3 months later for $1.1 million.
The kitchen now has dark cabinets and some stainless steel appliances. The listing calls it a "chef's kitchen."
It didn't have a parking space before and it appears to still not have parking.
The unit does have central air and in-unit washer/dryer.
Will this get the premium?
Or are Chicago housing prices starting to bubble over in some neighborhoods?
Rick Levin at Rick Levin & Associates has the listing (also has an interest in the property). See the new pictures here.
You can see the "before" pictures here.
Unit #1W: 3 bedrooms, 2.5 baths, now 2800 square feet, duplex up
Sold in May 1999 for $510,000
Sold in August 2002 for $662,500
Sold in March 2005 for $710,000
Originally listed in October 2009 for $680,000
Lis pendens foreclosure filed in November 2009
Reduced several times
Was listed in April 2010 for $550,000
Withdrawn
Bank owned in December 2012
Was listed in February 2013 at $399,900
Sold in March 2013 for $467,000
Currently listed for $1.1 million
Assessments now $804 a month (they were $875 a month in April 2010) (includes cable and did include special assessment in 2010)
Taxes still $4471 (they were $7196 in April 2010)
Central Air
Washer/Dryer in the unit
No parking
Bedroom #1: 26×16 (second level)
Bedroom #2: 20×14 (main level)
Bedroom #3: 17×15 (main level)