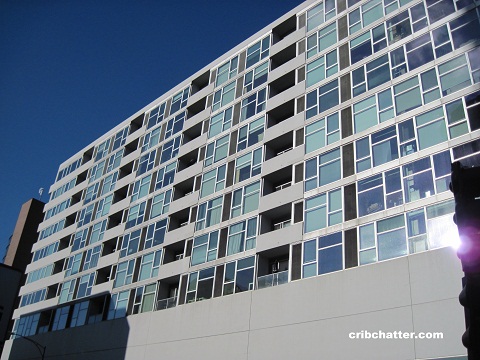 This 2-bedroom at 630 N. Franklin in River North recently came on the market.
From the public record, it doesn't appear to have ever sold before.
This appears to be the "penthouse" floor.
It has south and east views from 14 foot floor to ceiling windows.
It is larger than most of the other 2-bedrooms in the building at 1601 square feet but it still has the same look with concrete walls and ceilings.
The kitchen has white cabinets, granite counter tops and stainless steel appliances.
It has central air, washer/dryer in the unit and 2 parking spots are available. It says $34,900 for the spaces. I'm assuming those are  each or a total of $69,800.
This building was built in 2005.
Is it sell now, or forever hold your peace, for some of these units that never sold during the boom?
Heather Gustafson at CMK Realty has the listing. See the pictures here.
Unit #1108: 2 bedrooms, 2 baths, 1601 square feet
I couldn't find a prior sale
Currently listed at $499,900
Assessments of $514 a month (includes A/C, gas)
Taxes of $7760
Parking is $34,900 ( appears to be for 1 space- but 2 are available)
Bedroom #1: 11×15
Bedroom #2: 11×11