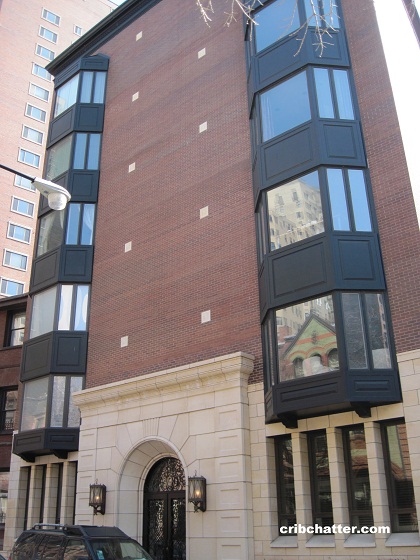 We last chattered about this 3-bedroom duplex at 39 E. Schiller in the Gold Coast in early July 2013.
See our previous chatter here.
But we had chattered about it several times before that, as it was a short sale and then was bank owned before being renovated and coming back on the market this summer.
Now, however, there's another twist.
The property is going to auction.
Online bidding will be held from August 17- 27.
The suggested opening bid is $500,000. The listing says "previously valued up to $1,100,000."
If you recall, the unit came back on the market as a 3-bedroom when previously it had been a 2-bedroom plus family room.
It has come back on the market with a new kitchen, baths, and new lighting.
The kitchen now has dark cabinets and some stainless steel appliances. The listing calls it a "chef's kitchen."
There is no deeded parking with the unit but it does have central air and in-unit washer/dryer.
What are the pros and cons of this selling technique in a hot real estate market?
I think Rick Levin at Rick Levin & Associates still has the listing (also has an interest in the property). See the new pictures here.
You can see the "before" pictures here.
Unit #1W: 3 bedrooms, 2.5 baths, now 2800 square feet, duplex up
Sold in May 1999 for $510,000
Sold in August 2002 for $662,500
Sold in March 2005 for $710,000
Originally listed in October 2009 for $680,000
Lis pendens foreclosure filed in November 2009
Reduced several times
Was listed in April 2010 for $550,000
Withdrawn
Bank owned in December 2012
Was listed in February 2013 at $399,900
Sold in March 2013 for $467,000
Was listed July 2013 for $1.1 million
Withdrawn
Currently listed at $975,000
Auction taking place with suggested starting bid of $500,000
Assessments now $804 a month (they were $875 a month in April 2010) (includes cable and did include special assessment in 2010)
Taxes still $4471 (they were $7196 in April 2010)
Central Air
Washer/Dryer in the unit
No parking
Bedroom #1: 26×16 (second level)
Bedroom #2: 20×14 (main level)
Bedroom #3: 17×15 (main level)
Related Posts
« Market Conditions: Second Quarter New Home Sales Soar Compared to Last Year House Flipping in West Town: Buying "As-Is" at 2526 W. Thomas »