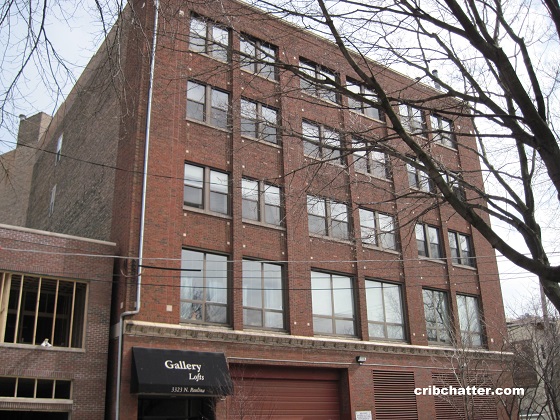 We last chattered about this 3-bedroom penthouse loft at the Gallery Lofts at 3323 N. Paulina in Lakeview in May 2013.
See our prior chatter here.
If you recall, it had many features that loft lovers crave including a timber beamed ceiling.
There was a 3-story atrium with a spiral staircase that connected the floors.
The kitchen, with maple cabinets and stainless steel appliances, was in the original elevator shaft.
It had west facing windows.
On the third floor there was a small "sitting room" which lead to a private 871 square foot rooftop deck with views of downtown.
It had central air, washer/dryer in the unit and 1-car garage parking.
In our previous chatter, many of you were surprised at the list price and thought it was too high.
But it sold quickly, and for $10,000 over the ask, at $760,000, although that was still under the 2006 purchase price.
Another penthouse unit, Unit #5DE, is also on the market.
Unit #5DE tried to sell in February and March of 2012 at $529,000, when the market was decidedly cooler.
It came back on the market in July 2013 for $825,000 and still remains at $825,000.
Will a quick sale be the fate of this other penthouse unit in the same building?
Or did Unit #5H just price it right?
Todd Szwajkowski at Dream Town had the listing. You can still see the pictures here.
Check out the pictures of Unit #5DE here.
Unit #5H: 3 bedrooms, 2.5 baths, 2754 square feet, 1 car parking
Sold in May 2000 for $519,500
Sold in April 2004 for $635,000
Sold in October 2006 for $775,000
Was listed in May 2013 for $750,000
Sold in August 2013 for $760,000
Assessments of $406 a month
Taxes of $3910
Central Air
Washer/Dryer in the unit
Deck: 871 square feet
Bedroom #1: 24×23 (second floor)
Bedroom #2: 17×14 (main floor)
Bedroom #3: 18×15 (second floor)
Sitting room: 12×11 (third floor)