This Victorian 2-flat at 1636 N. Claremont in Bucktown has been on the market since July 2013.
It looks to be connected to another 2-flat next door.
Each unit appears to have its own separate entrance.
Here are the units:
Unit #1: 2 bedrooms, 1 bath, no central air, rent of $1450 a month
Unit #2: 2 bedrooms, 1 bath, no central air, rent of $1445 a month
The building was built in 1891 on a 25×125 lot.
The unit has high ceilings, crown moldings and arched doorways.
There are lovely gardens in the backyard but no garage although the building next door has a garage so there is plenty of space and an alley in the back in case you want to build one.
The units don't have central air but there are window units.
There is an unfinished basement with a washer/dryer for the building.
Does this make sense as an investment?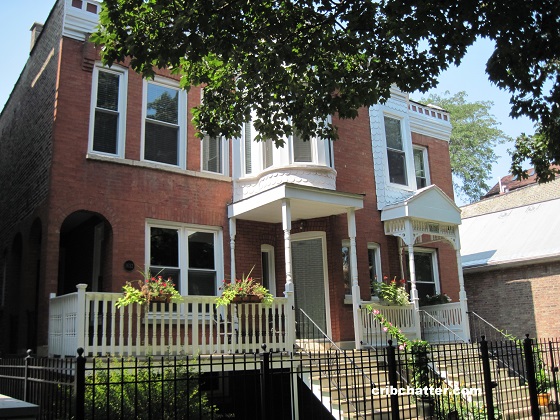 Elizabeth Galfer at Jameson Sotheby's has the listing. See the pictures here.
1636 N. Claremont: 4 bedrooms, 2 baths, 2-flat
Sold in March 2007 for $485,000
Originally listed in July 2013 for $580,000
Currently still listed for $580,000
Taxes of $8207
Total rental income of $34,740
No central air- window units only
Washer/dryer in the basement
No parking