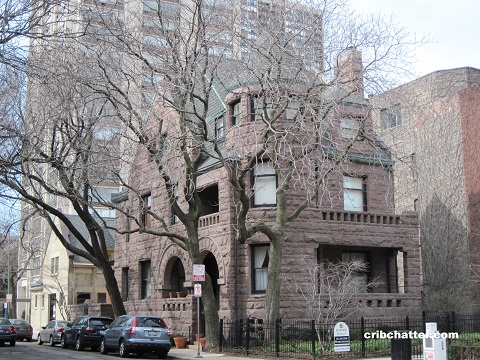 This 5-bedroom Gold Coast mansion at 1500 N. Dearborn Parkway came on the market in October 2014.
But if it looks familiar, that's because it is.
We have chattered about it twice before- in April 2010 and July 2011.
The house was built in 1880 and is on a corner lot measuring 33×150.
It comes with a coach house and a 3-car garage with a bricked courtyard between the house and the coach house.
The home has a lot of its original features including crown molding, beamed ceilings and original moldings and doors as well as three fireplaces.
Back in 2010, the house was listed as "priced to sell" and that they would "entertain all offers."
Additionally, in 2010 and 2011, the main house had light wood floors and the original woodwork was all in its original wood condition.
You can see what it looked like in the pictures in our July 2011 chatter here.
Since 2011, all of the original woodwork looks like it has been painted white and the floors have been stained a darker color (which is "in" right now.)
The walls also have been painted gray.
Otherwise, the kitchen is the same as it was in 2011 with maple cabinets and granite counter tops.
The house has come back on the market at the same price as in July 2011, at $3.95 million.
Obviously, the market is much improved, especially at this price point.
Normally, we don't talk much about the interiors but when you paint all of the crown molding on a 1880's house, it sticks out.
Will painting all of the original woodwork and staining the floors get the sale done?
Louise Study at Baird & Warner now has the listing. See the current pictures here.
1500 N. Dearborn Parkway: 5 bedrooms, 4 baths, 8000 square feet (includes the coach house. The house is 6290 square feet)
Sold in December 2005 for $4.466 million
Originally listed in July 2009
Was listed in April 2010 for $5.495 million
Reduced
Was listed in July 2011 at $3.95 million
Withdrawn
Re-listed in October 2014 at $3.95 million
Currently still $3.95 million
Taxes are now $34475 (they were $34569 in July 2014)
Central Air
Coach house
Bedroom #1: 21×16 (second floor)
Bedroom #2: 17×14 (second floor)
Bedroom #3: 15×14 (second floor)
Bedroom #4: 21×10 (third floor)
Bedroom #5: 12×12 (second floor- which I believe is the coach house)
The listing says you can see the floor plan on the website, but I couldn't find it.