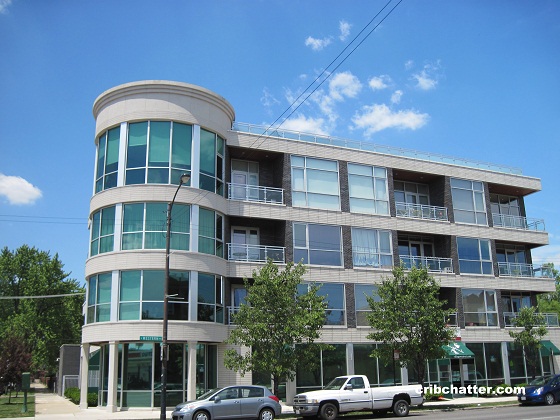 This 3-bedroom at 2408 W. Rice in the Ukrainian Village neighborhood of West Town recently came on the market.
This 12-unit building is on the corner of Rice and Western Avenue.
It was built in 2008-2009, just as the bust was hitting.
This unit is one of those on the curve, with a circular living room with floor to ceiling windows.
The kitchen has modern cabinets with wood and silver cabinets and stainless steel appliances.
The master bedroom has a spa-like bath.
It has the features buyers look for including central air, washer/dryer in the unit and parking is available for $25,000 extra.
It's hard to believe that it's now been 6 years since these units were originally on the market. We used to chatter about this building as being "new."
With the parking included, this unit is listed for $66,000 more than the 2009 purchase price.
3-bedroom units are the most popular on the market right now.
Will this seller see the premium?
Leigh Marcus at @Properties has the listing. See the pictures here.
Unit #201: 3 bedrooms, 2 baths, 1800 square feet
Sold in March 2009 for $434,000 (included the parking)
Currently listed for $475,000 (plus $25,000 for the parking)
Assessments of $239 a month
Taxes of $4098
Central Air
Washer/Dryer in the unit
Bedroom #1: 15×12
Bedroom #2: 12×9
Bedroom #3: 11×10