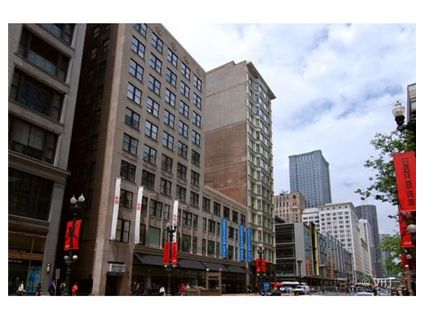 This 3-bedroom at 20 N. State in the Loop recently came on the market.
This building right in the heart of the State Street shopping district was converted into concrete lofts in 2003.
This unit was actually on the market last spring and sold in April 2014.
You can see what it looked like last year here.
It has been renovated and has come back on the market.
The listing says it has been "designed by one of the leading international designers" with a new, large kitchen with white modern cabinets and white appliances and large island.
It looks like there are new wide plank dark wood floors.
The gray concrete ceilings have also been painted white.
Last spring it was listed as a 2-bedroom with 1105 square feet but this time around it is a 3-bedroom with 1350 square feet.
The listing also says it comes with an "elite health club membership" and "4 weeks of brand car of your choice – Rolls Roys, Bentley, Ferarri, Lambo."
The loft has central air and washer/dryer in the unit but there is no parking with the building.
It sold in April 2014 for $250,000 and has come back on the market at $499,900.
I've been told that this building is all cash due to the number of renters in the building.
Would a luxury car for a month persuade you to buy in this building?
Saul Zenkevicius at Goodwill Realty Group has the listing. See the pictures here.
Unit #410: 3 bedrooms, 2 baths, 1350 square feet
I couldn't find an original sales price from 2003
Sold in April 2014 for $250,000
Currently listed for $499,900
Cash only building due to too many renters
Assessments of $811 a month (includes a/c, gas)
Taxes of $4709
No parking
Central Air
Washer/Dryer in the unit
Bedroom #1: 10×14
Bedroom #2: 10×12
Bedroom #3: 10×12
Office: 8×8