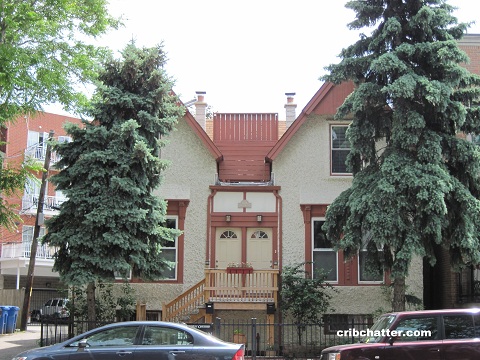 This 2-bedroom at 2729 N. Racine in Lincoln Park just came on the market.
If it looks familiar, that's because we chattered about it in 2011.
See our 2011 chatter here.
But in 2011, it didn't sell.
It looks to have the same finishes as in 2011.
The kitchen has granite counter tops and stainless steel appliances.
One bedroom is upstairs and the second is downstairs with a murphy bed.
The unit has skylights and shares 1 common wall with the unit next door.
There is deck and 1-outdoor parking space included.
In 2011, everyone seemed obsessed that the assessment for this 2-unit building was "just" $225 and only included water and common insurance.
4 years later, the assessment remains $225 a month.
This unit has come on the market just $20,000 above the lowest list price in 2011.
But the market is much better than 4 years ago.
Will this sell quickly this time around?
Jamie Connor at Conlon again has the listing. See the pictures here.
Unit #N: 2 bedrooms, 2.5 baths, no square footage listed
Sold in October 2001 for $329,000
Sold in August 2005 for $425,000
Originally listed in September 2010 for $409,000
Reduced
Was listed in October 2011 for $349,000
Withdrawn in October 2011
Currently listed at $369,000
Assessments are still $225 a month (includes water and common insurance)
Taxes are now $6025 (they were $5452 in October 2011)
Central Air
Washer/Dryer
Parking
Bedroom #1: 14×13 (second floor)
Bedroom #2: 14×13 (lower level)