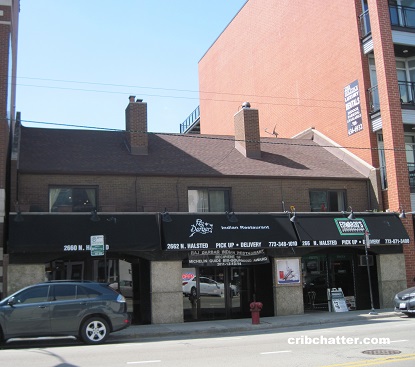 This 1-bedroom duplex at 2660 N. Halsted in Lincoln Park came on the market in November 2014.
It is bank owned and being sold "as-is."
The unit has exposed brick and timber ceilings with a lofty second floor bedroom open to the first floor.
From the pictures, it looks like the kitchen is intact with maple cabinets, granite counter tops and stainless steel appliances.
The listing doesn't say anything about an in-unit washer/dryer, but it does have a parking space and wall air conditioning units.
Originally listed in November 2014 for $183,750, it has been pending 3 times but has come back on the market every time.
It was recently reduced to $156,655.
What's the problem?
The listing says:
"non-conforming loans only due to 44% of the building is commercial space and low reserves."
The building has 6 units and it appears, from the pictures, that three of them are the commercial space on the first floor.
We chattered several years ago about the change in lending requirements in buildings with commercial space.
But I've heard from a lot of agents that as of January 1, the rule was tightened. Mortgage brokers used to be able to find a way around it but now, the new rule is thwarting that.
It apparently impacts buildings with more than 25% commercial space.
The tightening of the rule is impacting properties all over the city, even in River North and Streeterville if your building is above one of the big retail malls.
What does the rule change mean?
1. Cash buyers only; or
2. 20% down and a non-conventional loan- meaning a 5/1 or 7/1 ARM. May have to pay a higher mortgage rate because it can't be sold to Fannie or Freddie.
Would you stay away from a property that had a large commercial component because of this rule?
Sarah Han at Century 21 S.G.R has the listing. See the pictures here.
Unit #5: 1 bedroom, 1 bath, duplex, no square footage listed
Sold in September 2005 for $250,000
Lis pendens foreclosure filed in August 2011
Bank owned in November 2013
Originally listed "as-is" in November 2014 for $183,750
Pending 3 times
Was listed at $164,900
Reduced
Currently listed at $156,655 (includes parking)
Assessments of $250 a month
Taxes of $2181
Wall unit cooling
Washer/dryer ???
Bedroom: 12×12 (second floor)