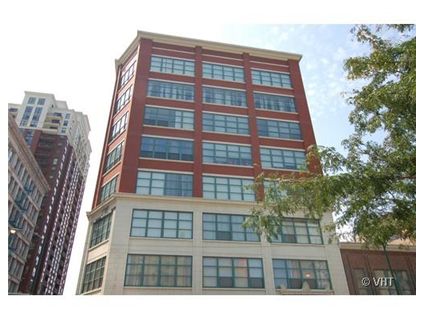 This 2-bedroom concrete loft in the Eleventh Street Lofts at 1020 S. Wabash in the South Loop came on the market in March 2015.
This building was one of 6 or 7 buildings that made up Invesco's Loftminium World conversion of a bunch of factory loft buildings it bought from a prominent West Loop landlord who decided to cash in his buildings in the loft conversion craze of the late 1990s.
1020 S.  Wabash was the only building in the group located in the South Loop. All of the other buildings were in the West Loop, scattered near Oprah's old Harpo Studios.
The layouts were kept the same as they were when they were apartments.
Buyers could purchase the units "as-is" which had the standard white cabinet and white appliance kitchens and the baths were white with black and white tile. (You can still see these original bathrooms in many of the units actually.)
Or, they could purchase the standard upgrade package. But the kitchen and baths in the "upgrade" were the same in each unit. You didn't get to choose finishes.
This 2-bedroom loft in 1020 S. Wabash has the upgraded kitchen which was stainless steel appliances, granite counter tops and maple cabinets. If you look at the pictures for the unit #4A that is available just above this unit, it also has the standard upgraded kitchen.
The bathrooms in this unit have also been upgraded from the "as-is" original bathrooms with the neutral tile.
It has 14 foot concrete ceilings and exposed brick. Both bedrooms appear to have windows.
The corner unit faces North and West.
Yes, that's the El that is running directly next to the building.
This loft has the features buyers look for including central air, heated garage parking which is included and a rare side-by-side washer/dryer.
In 2012, it was in distress.
In 2015, it is listed for more than the 2007 peak bubble price.
Will it get the premium?
Scott Fey has the listing. See the pictures here.
Unit #3A: 2 bedrooms, 2 baths, 1400 square feet
Sold in April 2002 for $240,500
Sold in June 2007 for $318,000
Lis pendens foreclosure filed in January 2012
Sold in September 2012 for $175,000
Originally listed in March 2015 for $339,000 (includes the parking)
Reduced
Currently listed at $327,500 (includes the parking)
Assessments of $346 a month (includes water, snow removal)
Taxes of $3086
Central Air
Washer/dryer in the unit
Bedroom #1: 17×10
Bedroom #2: 13×11