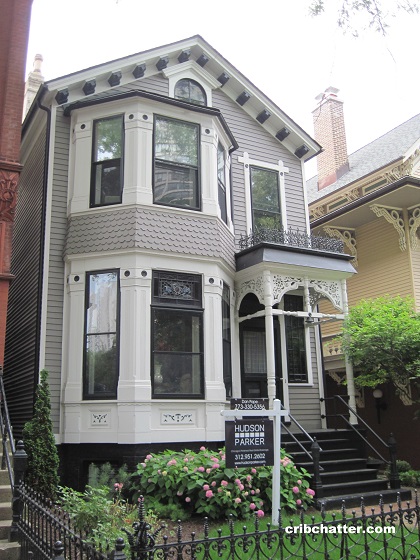 This vintage 3-bedroom single family home at 1836 N. Lincoln Park West in Old Town recently came on the market.
We last chattered about it two years ago, when it came on the market after a renovation.
See our 2013 chatter here.
If you recall, it has an old pedigree. It was built in 1876 for Charles Wacker on a smaller than average Chicago lot of 28×110.
Many of its vintage features remain including the original moldings, shutters, staircase and Tiffany stained glass windows.
In 2008, it was sold "as-is" as a 4-bedroom home with 1.5 baths.
In 2013, it came back on the market "restored to perfection" as a 3-bedroom with 2.5 baths, including a master bathroom that looked to have been made out of a prior bedroom.  (For some reason, the current listing just says 2 baths.)
In 2013, it was also advertised as having expansion possibilities with room for 5 bedrooms, perhaps in the partially finished basement.
In this listing there is a 26×19 storage room in the basement.
The kitchen has modern brown cabinets with stainless steel appliances and some kind of grey countertops (concrete or stone?).
The house has central air and a rare, at least for Old Town, feature of a 1-car garage.
In 2013, this house came on the market at $1.729 million and some of you complained about an "Old Town bubble."
It took a couple of months to sell and closed at $1.522 million.
The house has come back on the market for $168,000 more than the 2013 sale at $1.69 million.
Does Old Town still command a premium?
Ken Jungwirth at @Properties has the listing. See the pictures here.
1836 N. Lincoln Park West: 3 bedrooms, 2 baths, no square footage listed, 1 car garage
Sold in July 2008 "as-is" for $950,000
Was listed in July 2013 at $1.729 million
Reduced
Was listed in September 2013 at $1.599 million
Sold in November 2013 for $1.522 million
Re-listed in April 2015 for $1.69 million
Taxes now $14463 (they were $15333 in September 2013)
Central Air
Gas fireplace
Bedroom #1: 17×13 (second floor)
Bedroom #2: 13×12 (second floor)
Bedroom #3: 14×9 (second floor)
Family room: 17×16 (lower level)