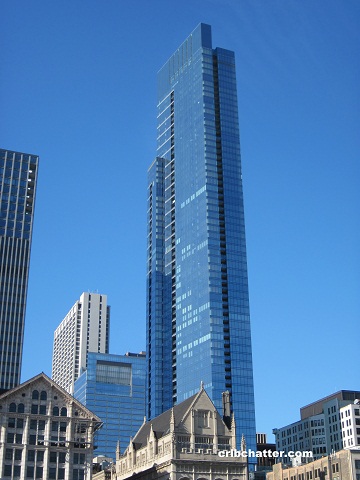 As Gary already reported, sales jumped year over year in March as the spring buying season got underway.
From the Illinois Association of Realtors:
The city of Chicago saw sales of 2,118 homes in March 2015, up 13.0 percent from last year when 1,875 homes were sold. The median price of a home in Chicago was $263,079, up 11.9 percent over March 2014 when median price was $235,000.
Historic data courtesy of G:
City of Chicago condo/TH/SFH closed totals March
year/closed/median/% REO-Short Sales
Year Closed Median %REO/SS
1997 1,226 $126,875
1998 1,540 $137,003
1999 1,766 $152,125
2000 1,793 $167,500
2001 1,800 $195,000
2002 2,112 $210,000
2003 2,261 $225,000
2004 2,772 $244,950
2005 2,822 $271,125
2006 3,000 $275,862
2007 2,399 $285,000
2008 2,098 $300,000
2009 1,219 $217,000 37%
2010 1,860 $207,750 38%
2011 1,481 $163,763 49%
2012 1,630 $170,500 44%
2013 1,894 $187,500
2014 1,875 $235,000
2015 2,118 $263,079
"Chicago's spring market is showing bounce with back-to-back months of sales increases signaling strengthening demand," said Hugh Rider, president of the Chicago Association of REALTORS® and co-president of Realty & Mortgage Co. "Even with fewer homes on the market, we're seeing determined buyers finding their ideal home. This increased demand is moving median sales prices higher, offering homeowners an incentive."
Speaking of inventory, Crain's is reporting that single family home inventory in Chicago is at 8 year lows. Condos/townhouses are also low, but not quite at record lows.
The sellers of a newly listed Logan Square house must have felt like the belle of the ball yesterday, with suitors swooping in almost immediately after it hit the market two days before. At least a dozen potential buyers made appointments to tour the three-bedroom house between 9 a.m. and 6:30 p.m.

By 9:40 yesterday morning, the listing agent, Nigel Gillett of Century 21 S.G.R.'s West Loop office, already had one offer in hand and expected to receive more for the Talman Avenue home, which is listed for $685,000.

"It's a crazy thing," Gillett said. "Crazy."

The swarm of potential buyers is a symptom of the city's super-tight inventory. The supply of houses on the market is smaller than it's been for at least eight years.

There were 3,795 city houses for sale the week of April 11, according to data from the Chicago Association of Realtors. That's about 250 fewer than were available at the same time last year and the smallest number of houses for sale since at least January 2007, the earliest date that CAR reports. During 2007 and 2008, the inventory of houses for sale in the city came close to hitting 10,000.
What's the reason for the low inventory even as prices have rebounded- with some being at or above peak?
"The numbers may not be working for them yet," said Janet Joseph, a Berkshire Hathaway HomeServices KoenigRubloff Realty Group agent in the company's Lincoln Park office.

As many as one-quarter of all Chicago-area homeowners with mortgages owe more than the home is worth, and another 17 percent are "effectively under water," meaning the proceeds from a sale of their home won't cover the costs of moving to a new one, according to RealtyTrac.

As a result, "they may have to wait it out another year or a few years," Joseph said.
Is this the best market Chicago has seen since the peak of the bubble?
P.S. Don't you just love it that Dennis Rodkin has "unretired" and is back in Chicago writing about real estate? We missed you Dennis!
Illinois home sales, median prices post double-digit gains in March [Illinois Association of Realtors, Press Release, Apr 22, 2015]
Can't find a Chicago home to buy? Join the club [Crain's Chicago Business, Dennis Rodkin, April 21, 2015]