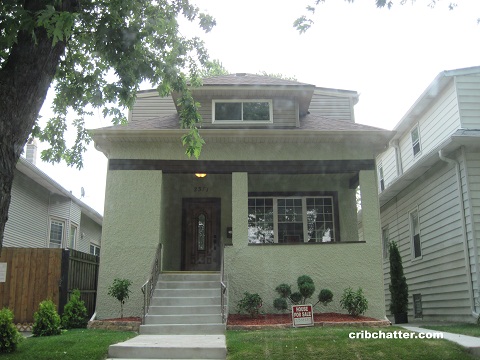 Multiple bids.
Waiver of appraisal contingencies.
Offers over list price.
Waiving inspections.
Record high prices which keep climbing.
Welcome to Chicago's 2015 spring housing market.
These conditions are no longer limited to the GreenZone. The market is this hot everywhere in the Chicago and Chicagoland housing market.
Homebuyer Maria Casillas drags her two kids from one prospective home to another, surprised to learn that most everything desirable in her price range is quickly gone. Working-class neighborhoods here are seeing bidding wars between buyers.

She's part of a broader national trend. Even while home sales are sluggish, home prices are rising in much of the nation. Competition is heating up.

"It's like everyone is coming out to get a house," lamented Casillas, 33, as her fiance, David Herrera, inspected the closets of homes they both feel are too small.

Pre-approved by a lender for up to $200,000, Casillas is finding that there's nothing of good size available in that range here. Price wars are common in high-growth, high-wealth cities such as booming San Francisco. But this is blue-collar Chicago, an exclamation point for the national trend of higher home prices.
According to the article, she is looking in the suburb of Burbank which is on the Southwest side near the Chicago Ridge Mall. It is just west of Evergreen Park.
This suburb is not a GreenZone alternative suburb that routinely gets mentioned on CribChatter such as Park Ridge, Oak Park etc.
The price trend is making housing less affordable for many Americans, who saw wages grow by just 2.6 percent since April 2014. The midpoint price for a home in the United States rose by almost 8 percent between March 2014 and March 2015. In Chicago, where Casillas is house shopping, the midpoint sales price rose by 8.8 percent in the first three months of 2015, according to the National Association of Realtors.

Historically, home prices nationwide have averaged 3-4 percent growth annually with little risk for owners. In the mid-1990s, home prices began soaring to above 13 percent annual growth, before collapsing in 2008. It's an open question as to whether housing reverts to historical growth rates.

"I think it's overwhelmingly likely that's what's going to happen," said Austan Goolsbee a University of Chicago economist and former top adviser to President Barack Obama.

Real-estate valuation firm Smithfield & Wainwright warns that at least 14 states and the District of Columbia may be experiencing inflated prices like those that preceded the U.S. financial crisis.

"You're starting to get a disconnect," David Macpherson, the company's chief economist, said of rapidly rising prices in some markets.

His company compares home sales price data from the Federal Housing Finance Agency to the cost of renting a home or replacing one in areas across the country. When the sales price exceeds by 10 percent or more either the cost of renting or replacing a home, the valuation firm argues, it signals a potential price bubble that could burst.
Is a second housing bubble building in Chicago and the Chicagoland area?
With fewer houses on market, some areas see ominous trend in higher prices (McClatchy Washington Bureau, Kevin G. Hall, May 18, 2015)