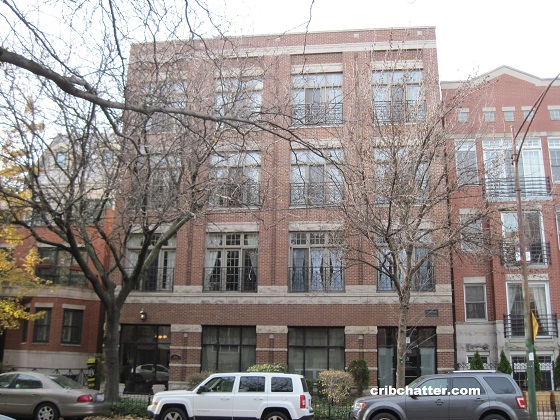 This top floor 2-bedroom at 2846 N. Southport in Lakeview came on the market in early May.
This building has 6 units and is a rare mid-rise building with an elevator.
After the last couple of winters, it also has a much-sought after attached garage.
This listing describes the unit as "California chic in Chicago" because it is now painted all white.
The unit sold just 5 months ago and at that time it had dark walnut built-in bookcases and maple cabinets in the kitchen.
You can still see those pictures here.
Both are now white, along with almost everything else in the unit.
The kitchen appears to have the same dark granite counter tops as before and still has stainless steel appliances, however.
The listing says there is a "brand new master bath."
The other bathroom now has a white vanity.
It's also in the Burley school district, which the listing puts in all caps: BURLEY SCHOOL DISTRICT.
This unit was under contract within 10 days of listing but has now come back on the market at the same price.
Is the school district really that important for this property?
Are parents now buying $570,000 2-bedroom condos in the city instead of moving directly to the suburban home?
Elizabeth Kucich at @Properties has the listing. See the pictures here.
Unit #3S: 2 bedrooms, 2 baths, 1670 square feet
Sold in April 2002 for $487,500
Sold in January 2015 for $532,000
Originally listed in early May 2015 for $570,000
Under contract
Re-activated in late May 2015 at $570,000
Assessments of $361 a month
Taxes of $5393
Central Air
Washer/Dryer in the unit
Attached garage parking included
Bedroom #1: 16×15
Bedroom #2: 13×11