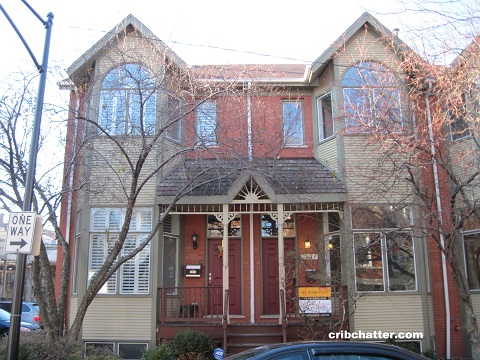 This 2-bedroom townhouse at 1814 N. Bissell in Lincoln Park recently came on the market.
If it looks familiar, it's because we chattered about it twice in 2010 and 2011.
It was bank owned in June 2010 and sold for $19,720 under the 1999 sales price.
Five months later, it came back on the market as a gut rehab with a new kitchen and baths.
The kitchen has still has the same white cabinets, granite counter tops and stainless steel appliances as it did in 2010.
The bathrooms were renovated in 2010 with marble.
The floors are the popular dark stained wood floors.
There is a small outdoor space on the first floor (leading to a shared garage) along with a back deck off the master bedroom.
The two bedrooms are not on the same floor. The master bedroom is on the top floor and the second bedroom one floor down, on the third level.
Yes, that's the El brown/purple line running directly behind the townhouse.
The original renovator tried to get $449,000 in 2010's market but ended up selling for $425,000.
Some of you thought that the 2010-2011 buyer overpaid.
See our interesting chatter here about living on the El line, how 2011 was a "bubble" again and other topics.
The townhouse has come back on the market at a new peak price for this unit: at 29.2% higher than the 2011 purchase price at $549,000.
If some of you thought the 2011 price was a new bubble, what about now?
How high will prices on 2-bedroom Lincoln Park townhouses go in this hot market?
Emily Smart LeMire at Coldwell Banker has the listing. See the pictures here.
1814 N. Bissell: 2 bedrooms, 2 baths, 1 car parking, no square footage listed
Sold in April 1989 for $182,500
Sold in December 1999 for $239,720
Lis pendens filed in April 2006
Bank owned in May 2009
Sold in June 2010 for $220,000
Was listed in November 2010 for $449,900
Sold in February 2011 for $425,000
Currently listed for $549,000
Assessments still $100 a month
Taxes are now $7602 (they were $4405 in November 2010)
Central Air
Washer/Dryer in the unit
Bedroom #1: 15×13 (third floor)
Bedroom #2: 16×10 (second floor)
Kitchen/living room on the main level
Family room: 16×16 (lower level)