This 2-bedroom townhouse at 1818 N. Bissell in Lincoln Park came on the market on June 23, 2015.
It has a split floor plan with a bedroom on the second floor and one on the third floor.
The kitchen has white 42 inch cabinets, granite counter tops and stainless steel appliances.
It has a lower level family room and a 1-car garage.
This townhouse came on the market just 12 days after a similar townhouse just 2 doors down the street at 1814 N. Bissell had come on the market.
We chattered about that townhouse in June 2015. See our chatter here (the link is still active- so you can see the interior pictures as well.)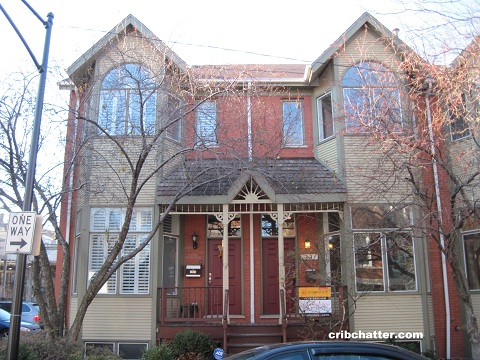 Here's the timeline for the two units:
June 11: 1814 N. Bissell came on the market at $549,000
June 17: 1814 N. Bissell cuts its price to $509,000
June 23: 1818 N. Bissell comes on the market at $509,000
June 24: 1814 N. Bissell goes under contract
July 6: 1818 N. Bissell reduces to $497,500
July 23: 1818 N. Bissell reduces to $469,000
Today: 1818 N. Bissell is still on the market
The El runs behind both townhouses equally. They are just a few steps from each other.
This townhouse has now been reduced by $40,000 in just the last month.
Are buyers starting to balk at the record high prices?
Coleen Kent at @Properties has the listing. See the pictures here.
1818 N. Bissell: 2 bedrooms, 2 baths, 1635 square feet
Sold in January 1999 for $273,000
Sold in March 2003 for $335,000
Sold in November 2005 for $410,000
Sold in May 2010 for $418,500
Originally listed in June 2015 for $509,000
Reduced twice
Currently listed at $469,000
Assessments of $100 a month
Taxes of $7755
1 car garage
Central Air
Bedroom #1: 15×13 (third floor)
Bedroom #2: 16×10 (second floor)
Family room: 16×14 (lower level)